This is an archived article and the information in the article may be outdated. Please look at the time stamp on the story to see when it was last updated.
A Fontana man has been arrested on suspicion of murder after a body was found buried in the backyard of his home, police announced Friday, in an investigation that was possibly linked to the disappearance of a 27-year-old San Diego woman.
Cesar Rosales, 40, was ineligible for bail after being booked at the West Valley Detention Center, according to San Bernardino County Sheriff's Department records.
Detectives investigating a missing persons case served a search warrant at Rosales' home, in the 8200 block of Reseda Avenue, about 8 :50 p.m. Thursday, according to a statement from the Fontana Police Department.
With the assistance of a cadaver dog, investigators found a deceased person buried on the property, the news release said, adding: "The identity and gender of the body is still pending."
In an earlier statement, which has since been disavowed, the Police Department identified the body as 27-year-old Alejandra Carrion Gutierrez, who had been reported missing on Jan. 2.
The retracted news release said the suspect and victim knew each other, and went on to add: "During the interview, Rosales admitted to the homicide and burying the body in his yard."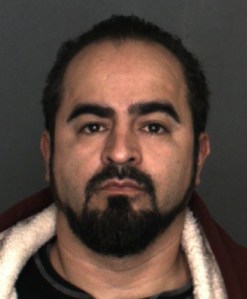 On Saturday, one week after Gutierrez's family reported her missing, her unoccupied vehicle was found in Fontana, near the Rialto border, that statement said, and she had not been heard from since Dec. 31.
Martha Guzman-Hurtado, a spokeswoman for the department, later told KTLA that the information in the initial news release could not be confirmed.
The investigation was ongoing.
Correction: The suspect's surname was incorrectly reported in an earlier version of this article. The post has been updated.