This is an archived article and the information in the article may be outdated. Please look at the time stamp on the story to see when it was last updated.
Homicide investigators on Thursday were awaiting the autopsy results of Gavin Smith, the missing Fox executive whose body was found and positively identified roughly two-and-a-half years after he mysteriously vanished.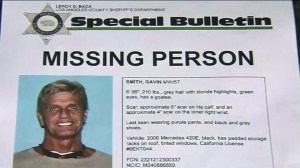 Smith's remains were discovered by hikers on Oct. 26 in a rural area between Palmdale and Acton that was immediately adjacent to the Angeles National Forest, the Los Angeles County Sheriff's Department announced Wednesday night.
Citing unnamed sources, the Los Angeles Times reported that the hikers discovered a shallow grave containing a skull and some bones. Lt. Dave Dolson with the Sheriff's Department confirmed at a news conference late Thursday morning that the remains were discovered in a shallow grave, but would not comment beyond that.
The L.A. County Coroner's office determined they were the remains of Smith, a husband and father of three who was 57 years old at the time of his disappearance.
Dolson indicated that trauma was found on the remains. He added that while investigators haven't ruled out gunshot wounds, they don't believe he was shot.
The autopsy results have not been finalized, and a cause of death had yet to be determined, Deputy Kelvin Moody with the Sheriff's Department told KTLA Thursday morning.
In the weeks after he vanished, Smith's family publicly pleaded on television and social media for information about his whereabouts, even setting up a website where people could provide tips. The family also put up a $20,000 reward for any information leading to Smith about a month after his disappearance.
But less than a year later, the case changed from a missing person investigation to a homicide investigation after Smith's Mercedes-Benz SUV was found in a Simi Valley storage unit tied to John Creech in March 2013.
A public death certificate was formally issued for Smith two years after he was last seen.
It was dated May 1, 2012.
Creech is currently serving an eight-year in a Los Angeles County jail on unrelated drug charges.
At the time the SUV was discovered, the Sheriff's Department said Smith had some sort of relationship with Creech's wife, who had apparently met the film executive while the both were in rehab.
The nature of that relationship was never revealed, but Evan Smith, a former basketball player at USC, had alluded to marital problems between his parents in a tweet sent out less than a month before his father vanished.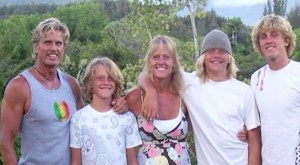 "Thoughts and prayers out to my amazing Mom and bros plz," he wrote, according to the L.A. Times. "My dad decided to leave the family last nite. Real family sticks together."
The tweet has since been deleted, and Smith later clarified that his parents had not separated, the Times reported.
Investigators have previously stated that they believed they know what the motive was in the suspected homicide, but it has yet to be disclosed.
A homicide investigation was continuing, and no charges have been filed.
"As of this time, we do not know of new pending charges, and this is still an ongoing investigation," Moody said, adding, "No one in custody."
Investigators were looking into the possibility that more than one person was involved in the crime, Dolson said, adding that the discovery of Smith's remains put them closer to an arrest.
"We're not calling anyone a suspect at this point," he added.
More video: