This is an archived article and the information in the article may be outdated. Please look at the time stamp on the story to see when it was last updated.
After a possible suicide, a body was found along a ramp between two freeways in Colton, prompting a police investigation and a SigAlert on Tuesday afternoon.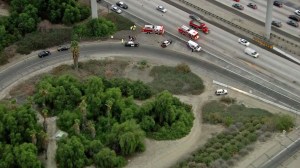 Colton police received a call about 2:15 p.m. from the California Highway Patrol alerting investigators to a body at the interchange of the 10 and 215 freeways, Detective Ray Mendez said.
The San Bernardino Sun reported that the body was headless, but Mendez would not comment on the condition of the body.
The investigation appeared to be taking place at the edge of the northbound 215 Freeway ramp where it merges onto the westbound 10 Freeway, aerial video showed. Multiple police and fire vehicles were on scene.
The body, found on the side of the transition road, was that of a white male adult, between the ages of 30 and 40, Mendez said. His identity was being withheld pending family notification.
A white pickup truck was towed from the place where it was parked on the southbound 215 Freeway bridge directly over the site where the body was found, Mendez said.
"The preliminary investigation is pointing towards a possible suicide," Mendez said in a new release issued just before 6 p.m.
The transition — from the northbound 215 to the westbound 10 — was closed for an unknown duration as of 3:15 p.m., according to the California Highway Patrol's traffic incident website.
The SigAlert was issued at about 2:30 p.m. for the westbound 10 Freeway onto the southbound 215 Freeway, the CHP website stated.
The ramps onto the westbound 10 Freeway from both the northbound and southbound 215 Freeway were closed due to police activity, Caltrans said on Twitter at about 3 p.m.