This is an archived article and the information in the article may be outdated. Please look at the time stamp on the story to see when it was last updated.
The FBI asked for the public's help Thursday identifying a woman dubbed the "Bombshell Bandit" for her appearance and a bomb threat she made while robbing a Valencia bank.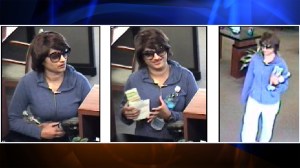 The woman wore a "glamorous disguise," including a wig and large sunglasses, when she robbed a Bank of the West at 27011 McBean Parkway in Santa Clarita, authorities said.
During the June 6 robbery, the woman handed a teller a note demanding cash and threatening a bomb detonation if the bank employee did not comply, according to Laura Eimiller, a spokeswoman for the FBI's Los Angeles Field Office.
The woman had last been seen leaving the bank branch, but she was reported "casing" other banks in the area on the day of the robbery, Eimiller said in an email.
Witnesses said the bank robber wore a brown or auburn wig but that her natural hair color appeared to be black.
She was "described broadly in terms of ethnic background, to include either white, Hispanic, Indian or of Middle Eastern descent," Eimiller's email stated.
The Bombshell Bandit was described as 20 to 25 years old, 5 feet 3 inches tall and approximately 125 pounds in wight.
Anyone with information was asked to call the Los Angeles County Sheriff's Department, the FBI or to call 911.