This is an archived article and the information in the article may be outdated. Please look at the time stamp on the story to see when it was last updated.
The arrest of 30 Chinese and Mexican nationals who had entered the country without authorization led U.S. Border Patrol agents to uncover a clandestine tunnel spanning the U.S.-Mexico border near the Otay Mesa port of entry early Saturday morning.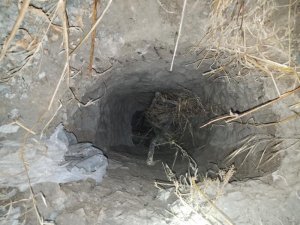 The officials were patrolling the southern San Diego area, which borders the Mexican city of Tijuana, when around 1:15 a.m. they came across the group of migrants, who appeared to have just entered the country, according to a statement from U.S. Customs and Border Protection.
The agents searched the area and uncovered a crude hole in the ground that was outfitted with a ladder and concluded it was used to smuggle humans and illegal goods. The shaft would deposit people coming from Mexico just north of the secondary fence near the port of entry, officials said.
Agents plan to question the 30 migrants who were arrested about the discovery.
Among those taken into custody were 23 Chinese nationals — including 21 men and two women — as well as seven Mexican nationals, with four men and three women among them.
"While subterranean tunnels are not a new occurrence along the California-Mexico border, they are more commonly utilized by transnational criminal organizations to smuggle narcotics," the CBP press release states. "However, as this case demonstrates, law enforcement has also identified instances where such tunnels were used to facilitate human smuggling."
Officials with U.S. Immigration and Customs Enforcement responded to the scene and will be investigating the cross-border tunnel in conjunction with their Mexican counterparts.
This is certainly not the first surreptitious tunnel discovered along the U.S.-Mexico border nor the most sophisticated. In fact, officials said they believe it may be an extension of an incomplete tunnel that was previously identified and seized by Mexican authorities.