This is an archived article and the information in the article may be outdated. Please look at the time stamp on the story to see when it was last updated.
GLENDALE, Calif. — A 13-year-old boy died Thursday after he was hit by a school bus while riding his bicycle in Glendale.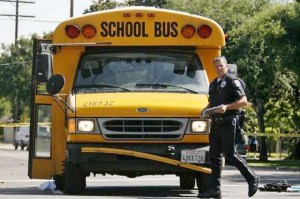 The victim was identified as Jonathan Hernandez, according to the Los Angeles County Coroner's Office.
The accident happened around 2 p.m. at the intersection of Columbus Avenue and Riverdale Drive, Glendale police Sgt. Tom Lorenz said.
Hernandez was riding his bike westbound on Riverdale, while the bus was heading northbound on Columbus.
When he entered the intersection, where there is a four-way stop, he was struck by the bus.
Paramedics rushed the boy to the hospital, where he was pronounced dead at 3:04 p.m.
The driver of the bus told police that she never saw the boy coming, Lorenz told the Glendale News-Press.
There is a circular median in the center of the intersection that vehicles must go around after stopping.
"You can't speed through this intersection," Lorenz said.