This is an archived article and the information in the article may be outdated. Please look at the time stamp on the story to see when it was last updated.
A Labrador mix was impounded Saturday after a boy who was one month shy of his second birthday was attacked by a dog in southwest Riverside County and suffered "serious injuries to his face," according to Department of Animal Services officials.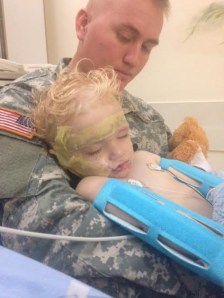 Dexter, a 6-year-old dog, was identified by a witness as the animal that attacked a 1-year-old boy at Primrose Park in French Valley (map) sometime after 3 p.m. Friday, spokesman for the Riverside County Department of Animal Services John Welsh stated in a news release.
The victim's family identified him as Kaidyn  Sutton.
"You think dog bite, but when you see the pictures, he's mutilated. He's really torn to shreds," the boy's grandfather, Glenn Garret said. "A dog that would attack a baby with such blunt force obviously had to have shown aggression before."
Although officials initially said the boy was 2 years old and with his grandparents during the attack, an updated news release stated he was with his mother and her friend.
"Both the mother and the friend were close by when they heard the boy screaming," animal services Sgt. Lesley Huennekens stated. "We have been told that the dog seemingly came out of nowhere when the child was attacked."
The dog was initially described as a black Rottweiler to animal services officials, but the mother's friend later helped identify the Labrador.
"The friend reportedly helped grab the dog away from the child," Huennekens said. "The boy's mother picked up her son and ran to her car and headed straight to a nearby hospital."
On Friday, Welsh said the boy had suffered "extremely critical injuries," but was expected to survive.
Family members said the dog damaged a tendon that allowed Sutton to move his eye brow and it wasn't immediately known if his ability to make full facial expressions would be impacted.
Before the Labrador was located, a family friend of the boy gave KTLA a flyer asking for the public's help identifying the dog. On it, a graphic photo showed the boy had a bloody gash on his forehead, above his eyes.
In another photo, the boy had bandages on his forehead and cheek and could be seen sleeping in his father's arms. His dad is an Army official stationed at Camp Pendleton and flew home when the attack occurred, Garret said.   
Dexter was impounded at the county's San Jacinto Valley Animal Campus pending a hearing to determine if the dog was safe enough to be returned to the owner.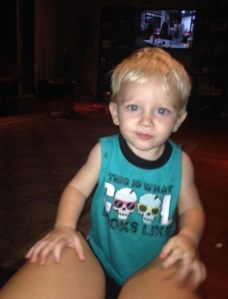 The county's standard practice in similar dog bites and serious attacks was to have an independent hearing officer listen to the evidence presented and ultimately make a ruling, the news release stated.
Animal services did not have a record of prior incidents with the dog; whose owners had him vaccinated for rabies, microchippped, and neutered, but the department could recommend a "destruction order" if it was believed to be too dangerous, according to the news release.
Anyone with information was asked to call Riverside County Sheriff's Department Deputy Chavez at 951-696-3000.
KTLA's John Moreno contributed to this report.