This is an archived article and the information in the article may be outdated. Please look at the time stamp on the story to see when it was last updated.
A 3-year-old child who was among nine people injured in a fire that destroyed two units of a San Juan Capistrano apartment complex has died, the Orange County Fire Authority said Wednesday.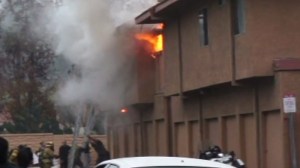 The boy, who was identified as Jaiden Liborio, passed away around 11:45 p.m. at Children's Hospital in Mission Viejo, according to the Orange County Coroner's office.
He would have turned 4 next month.
A total of nine people, including six children, had been injured in the fire, Capt. Steve Concialdi of the Orange County Fire Authority said Tuesday.
Jaiden, along with his 20-year-old mother and 2-year-old brother, were all in grave condition after they were rescued by firefighters, officials had said at the time.
The blaze, which was reported at about 9:15 a.m. in the 26500 block of La Zanja Street (map) Tuesday, was likely caused by a child who was playing with a lighter, according to officials.
It was believed to have started in a four-bedroom apartment where a total of 17 people lived.
Smoke detectors in the apartment were not believed to have been working at the time.
Several people trapped by the flames jumped from a second story window before firefighters arrived, including a woman who had "carefully" tossed her 2-year-old and 3-year-old daughters, as well as a 5-year-old boy, down to neighbors who were waiting below, according to Concialdi.
A woman in her mid-40s also jumped from the second-story window. She had suffered burn and other injuries from the jump and smoke inhalation, and was in serious condition when rescuers found her.
Eight units were affected by the fire, displacing a total of 80 people.
The Red Cross had set up a shelter for displaced residents at Capistrano Valley High School, which is located at 26301 Via Escolar in Mission Viejo.
KTLA's Anthony Kurzweil contributed to this report.