This is an archived article and the information in the article may be outdated. Please look at the time stamp on the story to see when it was last updated.
A 5-year-old boy was killed when a suspected DUI driver crashed through the side of an apartment building where he was sleeping early Thursday morning in the Historic South Central neighborhood of Los Angeles. Police are hoping to speak to another driver who may have cut off the suspect leading up to the crash.
The crash occurred in the 2800 block of South Central Avenue about 12:17 a.m. Los Angeles Police Department Lt. Nate Williams said.
The driver of a vehicle traveling northbound on South Central Avenue claimed another vehicle cut her off, causing her to swerve into the apartment building, Williams said.
Surveillance video released by the LAPD Thursday afternoon shows a Saab making a U-turn near the intersection, causing the suspect vehicle to swerve, cross the double yellow lines and slam into the apartment.
"It is part of the investigation," Capt. George Rodriguez told KTLA about the other driver.  "I'm sure at some point we're going to want to talk to the driver of that vehicle."
The vehicle crashed through a wall and ended up inside the apartment, pinning the boy and his father under the vehicle, Williams said.
The father's two teenage daughters and his wife were also in the home and were injured in the crash, Williams said.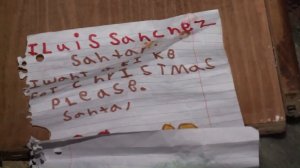 All five were taken to a local hospital, but the boy died from his injuries, Williams said.
Inside the apartment, a letter the boy had written to Santa was found among the debris.
The boy was asking Santa for a bike for Christmas in the letter.
A neighbor who did not want to be identified said she heard and felt the impact of the crash.
"I believe the driver didn't even brake or tried to brake just went through," she said. "You would think they're in the safest place, they're home, but you just never know."
The woman driving the car that crashed into the apartment was also injured and is in custody on suspicion of driving under the influence and vehicular manslaughter, officials said.
She was later identified by police as Vrenda Moreno.
Anyone with information was asked to call the Police Department's Central Traffic Division at 213-486-6606.