This is an archived article and the information in the article may be outdated. Please look at the time stamp on the story to see when it was last updated.
A 6-year-old boy died Monday after a vehicle his uncle was driving was T-boned in Santa Ana, and both involved drivers were being tested for DUI, authorities said.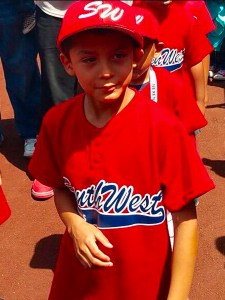 The two-car crash occurred about 12:45 p.m. at South Bristol Street and West Saint Andrew Place, according to Capt. Stephen Horner of the Orange County Fire Authority.
The 6-year-old boy, who was in a BMW driven by his uncle, took the brunt of the crash and was hospitalized critical condition, according to Cpl. Anthony Bertagna of the Santa Ana Police Department.
The child, Ivan Sandoval, died during surgery, police said.
The BMW failed to yield the right of way to a Nissan at an unmarked intersection, the corporal said. The BMW had been traveling on St. Andrews when it was T-boned by the Nissan, which was going southbound on Bristol, Horner said.
The Nissan driver, who was not hospitalized, was booked into jail on suspicion of driving under the influence, Bertagna said. He was identified by police as Armando Duran, 35.
The uncle, identified as 54-year-old David Wayne Cote, was taken to Orange County Global Medical Center, formerly Western Medical Center, and was also suspected of DUI, Bertagna said.
Based on statement Cote made, as well as a drug recognition expert's analysis, police determined he was under the influence of a narcotic, Bertagna said.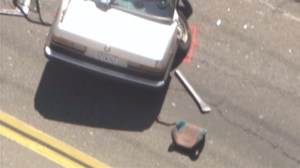 He was extricated from the BMW by responding firefighters and was transported to a hospital, while the son was transported in in full cardiac arrest, the captain said. The man was initially described as the boy's father, but police later said he was the child's uncle and guardian.
"It's kind of heart-wrenching to hear that a child lost their life because of someone else's carelessness," said resident Martina Reyes.
Sandoval played T-ball and was a member of the Southwest Angels.
Team mom Laura Manjarrez cried as she expressed what a pleasure it was to have Ivan on their team.
"It hurts to know that he was cut short from this world and we will miss him," Manjarrez said.
Aerial video from Sky5 showed an older model white BMW sedan and a gold Nissan Maxima were involved. A child's car seat appeared to be on the pavement next to the BMW.
All of those involved are Santa Ana residents, police said.
KTLA's Jennifer Thang contributed to this article.
Correction: A photo caption in this story incorrectly stated the source that provided it to KTLA. The caption has been updated.
More Video: