This is an archived article and the information in the article may be outdated. Please look at the time stamp on the story to see when it was last updated.
Los Angeles police on Wednesday arrested a woman accused of unlawfully taking her 6-year-old son that morning from a Venice elementary school, prompting an Amber Alert.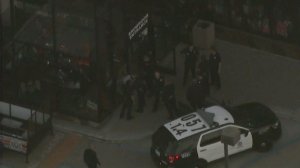 The boy was taken from Coeur d'Alene Avenue Elementary School at 810 Coeur d'Alene Ave. just after 8:30 a.m. by his mother who does not have custody rights, according to the Los Angeles Police Department's Pacific Division.
After a 12-hour search, the mother was taken into custody around 7:30 p.m. following a brief pursuit that ended with her hoisting the boy and fleeing into a Marina del Rey Haley-Davidson showroom.
Authorities initiated a traffic stop after Nisha Burnett Thayer was spotted driving through Venice with her son, West Burnett.
After initially pulling over and speaking with police, Sky5 footage showed the woman decided to drive away — at points with one or both hands off the wheel and out the driver's side window.
She drove to the Harley-Davidson retailer in Marina del Rey and got out of the car, picked up her son and made her way into the building, where she was swarmed by police officers and eventually apprehended.
West was in good health and spoke with social workers Wednesday night before he was released to his legal guardians.
He smiled as he left the police station and told reporters he was "happy" to be reunited with his father and aunt, though admitted he had been "kind of scared" throughout the ordeal.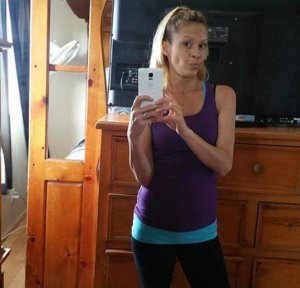 The boy was first spotted with his mother around 12:30 p.m. about 4 miles from the school, at Palms Boulevard and Kelton Avenue in the Palms neighborhood, according to police.
West was dropped off at school by his father's cousin, who walked the child into his classroom, according to the boy's 43-year-old father, William Burnett.
Nisha Burnett, the boy's biological mother, followed him into the school and took him from the classroom "without teacher's permission," LAPD Sgt. Bridgette Peterson said on scene in Venice. School staff tried unsuccessfully to stop the mother, according to the sergeant.
The campus was open at that time to allow parents to drop their children off in classrooms, she said.
"She basically walked into the classroom, took the child out during the open-campus time and then left with the child," Peterson said.
Investigators don't know what the mother's intentions were, the sergeant said.
The Police Department asked the California Highway Patrol to put out an Amber Alert, Peterson said. An Amber Alert finally went out to public emergency channels shortly after 6:30 p.m.
Just before 2 p.m., LAPD put out a news release, saying West Burnett's family and police were seeking help finding him. Police identified the mother as Nisha Burnett; family members on scene earlier gave her name as Nisha Burnett Thayer. William and Nisha Burnett are divorced.
There is a restraining order out against the mother "because of possible endangerment of the child," according to the boy's aunt, Lia Hein.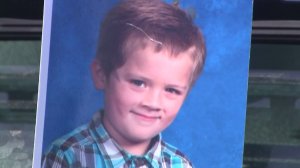 Hein said she has custodial rights to her nephew, and West lives with her, while William Burnett has parental rights. Nisha Burnett hasn't seen West in several months, Hein said at an afternoon news conference with police.
"She just walked right into the classroom and … took him," Hein said.
Nisha Burnett had been seen lurking around the school on Tuesday, trying to contact West, and the Los Angeles County Department of Children and Family Services was notified, the aunt said. The mother was told to leave the school property, Hein said.
West had trouble sleeping Tuesday night and was "worried about hearing his mom in the room," Hein said, tearing up.
"I know he must be terrified. Nisha, bring him back. Bring him back," Hein exclaimed. "You know you're not well."
The mother has been known to live in her vehicle, said Peterson and William Burnett, who described his ex-wife as being of Filipino descent.
William Burnett described his ex-wife as homeless and "very erratic," and Hein said she has mental health problems and a history of drug abuse.