This is an archived article and the information in the article may be outdated. Please look at the time stamp on the story to see when it was last updated.
Police were searching for the gunman who opened fire on three people, wounding two and killing a 7-year-old boy, in the Mid-City section of Los Angeles, authorities said Tuesday. Police had initially said the child was 9-years-old.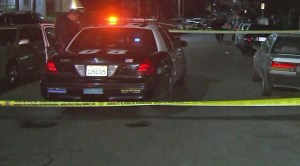 The incident occurred around 9 p.m. Monday in the 1900 block of South Corning Street, according to the Los Angeles Police Department.
The boy was with his mother and her boyfriend when a white vehicle carrying four men pulled up next to them and opened fire, police said. The gunmen immediately fled.
The three victims had just returned home from a laundromat and were either in a car or standing next to it when someone fired as many as 25 bullets at them, according to police.
The child was shot in the back.  He was initially listed in critical condition, the LAPD told KTLA 5.
Despite being upgraded to serious condition a few hours later, the boy died Tuesday night, according to LAPD Detective Gus Villanueva.
The two adults were in stable condition.
The motive was not known, but police said the area is known for gang activity.
The LAPD asked anyone with information to contact West Los Angeles detectives at (310) 444-0702.