This is an archived article and the information in the article may be outdated. Please look at the time stamp on the story to see when it was last updated.
Authorities are searching for the driver who fled the scene after fatally striking a teenage boy in Eastvale early Thursday, according to the Riverside County Sheriff's Department.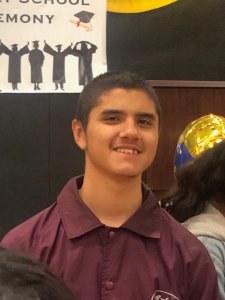 Deputies responded to a call of a vehicle hitting a pedestrian in the area of 68th and Tarah streets around 2:40 a.m., the Sheriff's Department tweeted. When deputies responded to the scene, they found the male juvenile in the roadway. He was pronounced dead at the scene. Authorities have not yet released the name of the victim, but grieving family members who were gathered at the scene hours after the deadly incident identified him as 15-year-old Anthony Gaitan. He was fatally struck just around the corner from his home, according to relatives. His aunt, Christina Gaitan, told KTLA she was the one who originally found him after he was struck and killed. "I held him, I didn't know he was gone already. I held him for a while, called my mom and told her just to come out here," she said, her voice choked with emotion. "I couldn't explain it, couldn't talk, I just — it was a horrible thing." One of the victim's cousins who described Anthony as her "best friend" added that the family is devastated. "All of us are hurting," Serena Villareal said. "I was definitely most close to him because he and I talked about everything, and we grew up together." A
GoFundMe account
has been set up to help pay for Anthony's funeral. The fatal collision is being investigated as a hit-and-run, according to the department. Anthony's family is pleading for the driver to turn himself or herself in to law enforcement. "In order for us to move on and have some closure, we need to find this person, male or female, whoever it is," said the victim's grandmother, Gloria Gaitan. "Come forward, please. We're begging — we're begging … to please do the right thing." Authorities have not released a description of the driver. The car was described only as a dark-colored sedan. No additional information was immediately released. Anyone with information is urged to call the Eastvale Traffic Team by dialing 951-955-2600.
KTLA's Thomas Lin contributed to this story. 
https://twitter.com/RSOPIOWest/status/1134102145706258432