This is an archived article and the information in the article may be outdated. Please look at the time stamp on the story to see when it was last updated.
A 13-year-old boy remained on life support Wednesday after a near-drowning incident during an "end-of-year" pool party at a Murrieta school last week.
Alex Pierce was celebrating with members of the Dorothy McElhinney Middle School band and choir at the pool at Vista Murrieta High School on Friday when the incident occurred, according to a statement released Saturday by the Murrieta Unified School District.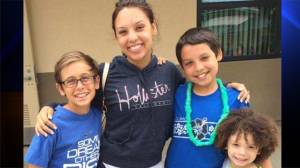 The event was chaperoned by parents, faculty volunteers and several high school student lifeguards, according to district officials.
Yet, no one realized Alex was missing until a classmate spotted him at the bottom of the pool, according to a post on a GoFundMe page set up for the boy's family.
"I started diving down there as quickly as I possibly could," said classmate Rylie Spivey. "I tapped his arm to check to see if he was responding. When he wasn't, I grabbed him and started swimming to the surface," she said.
Brian Bonus jumped in too and helped bring Alex to the surface.
"He didn't make any noises," Bonus said. "He was lifeless."
The students said none of the adults or the lifeguards dove into the pool to help.
While they waited for help to arrive, the students told KTLA that no one at the party rendered any first aid or even removed the boy from the pool.
CPR was not started until members of the Murrieta Fire Department arrived, according to the district.
It was not known how long Alex had been underwater.
The teenager was initially taken to Inland Valley Hospital where the decision was made to airlift him to another hospital, the district stated.
On Wednesday, Alex was still in a coma at Loma Linda Medical Center and family members said his condition was worsening.
"Alex's brain activity is diminishing quickly and unless the hospital has clear signs of life, they will remove him from life support," the post stated.
After viewing surveillance video from the pool area, Murrieta police said nothing inappropriate was observed and determined the incident was accidental.
Alex's friends and family described him as "thoughtful, caring and quick-witted."
"We need a miracle right now. Keep fighting, sweet Alex, we love you. #PrayforAlex," the final update on the GoFundMe page stated.