This is an archived article and the information in the article may be outdated. Please look at the time stamp on the story to see when it was last updated.
Nolan Brandy, the 9-year-old boy who was shot in his classroom on Monday in San Bernardino, California, is doing well and recovering better than expected, his parents told CNN.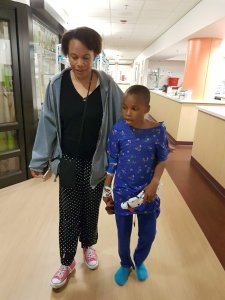 "In the beginning, it was very surreal and just we couldn't believe it," his mother, Rachel Brandy, said Friday. "We know our son is going to be all right, so we are truly thankful for that."
The young victim was released from the hospital on Friday afternoon, his father Leon Brandy told CNN.
Nolan, a student at North Park Elementary School, was near his teacher when a man entered and, without saying a word, opened fire, police said.
The man's target, authorities said, was his estranged wife Karen Smith, a 53-year-old special needs teacher. Cedric Anderson fired 10 shots in all, stopping to reload once, police said. After killing Smith, he then turned the gun on himself.
Nolan and another student, 8-year-old Jonathan Martinez, were behind Smith and were hit by gunfire. Jonathan died at a hospital.
Despite being shot in the abdomen and suffering a cracked rib, Nolan is in good spirits, his parents said.
Rachel Brandy said she knew both Smith and Jonathan well, as she had visited the classroom every Thursday to help lead reading groups.
"It just keeps replaying in my head and because I was in that classroom, I'm just imagining it more so, thinking about where each person was at the time that this happened," she told CNN's Brooke Baldwin.
Jonathan, she said, would often give her high fives during those reading sessions.
"I'm just gonna miss that," she said. "I feel like I was there, like that's my extended family."
Police said Anderson and Smith had dated for four years and married in January. On Facebook, he posted images of a happy, loving couple enjoying date nights and smiling in selfies.
But Smith told those close to her that his behavior had become odd and that he had threatened her, according to police. She moved out of their home in March and went to live with other family, police said.
School staffers were unaware of the marital issues. Anderson signed in to the school upon entering on Monday and did not appear agitated, staff told police.
Nolan has not talked with his parents about the incident yet, they said.
"He's not saying anything about it, so we haven't said anything to him," Rachel Brandy said. "We're just taking care of him, making sure that he is OK physically now."
Mostly, she's thankful that her son is healing after the violent episode.
"I want people to know that he is my bright and shining star. He is my butter bean," she said. "I'm so grateful. He is a happy kid. He is just wonderful, and he is ours."
A GoFundMe page has been set up for Nolan.