This is an archived article and the information in the article may be outdated. Please look at the time stamp on the story to see when it was last updated.
Authorities are hoping to piece together the whereabouts of a 15-year-old boy who was the subject of a widely shared photo and two of his siblings after five of their family members were found dead at the bottom of a 100-foot cliff in Mendocino County.
Devonte Hart and his sisters Hannah, 16, and Sierra, 12, were not among the five bodies recovered after bystanders noticed an SUV that had plunged from a pullout off Highway 1 and overturned on the rocky shore below, Mendocino County Sheriff Tom Allman said in a press conference Wednesday afternoon.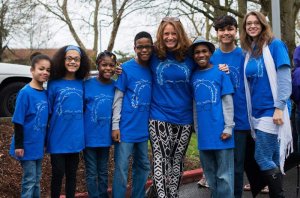 Those bodies were identified as the children's parents, Jennifer and Sarah Hart, both 38, and three of their six adopted children: Markis, 19, and 14-year-olds Jeremiah and Abigail.
The car was spotted around 3:38 p.m. Monday by others in the scenic spot just south of Juan Creek in Westport, a rugged and remote area of the California coastline, according to California Highway Patrol Sgt. Erich Paarsh. "It was an obvious fatality situation," with the three children's bodies outside the vehicle, he said.
First responders searched the scene until after midnight, although authorities were not initially aware that there may be additional victims, Allman said.
But after the parents were identified on Tuesday, officials learned they had six children and realized others could be outstanding. The CHP and U.S. Coast Guard dispatched an airplane, helicopter and rescue boat to the crash site, while local sheriff's officials checked the family's home in Woodland, Washington, but the other children have not been found.
"We have every indication to believe that all six children were in there; however, only three bodies have been recovered," Allman said. "Certainly we want to know in the Bay Area if anybody recognizes this family of staying in a hotel, eating at a restaurant, getting gas at a gas station — any information on the whereabouts of where these people were 24 hours ahead of this tragic incident we would appreciate."
The Clark County Sheriff's Office in Washington advised California officials that it appeared the family was on vacation, as many possessions, a pet and some chickens were left at their home. Authorities believe the missing children could be staying with friends.
Many other factors remain unknown, Allman said, including when exactly the crash occurred. The SUV's engine was cold by the time officials responded, meaning it likely had been there at least a number of hours, and possibly days.
"At this point I can't even say whether they were northbound or southbound," Allman said.
Another clue that is puzzling investigators is the lack of skid or brake marks at the crash site. However, Allman said officials "have no evidence and no reason to believe that this was an intentional act."
Officials have determined that no one was wearing seatbelts. The vehicle likely traveled between 75 and 100 feet on the turn-out before going off the edge, where there was a dirt berm but no guardrail, according to Allman.
The family had gained widespread attention in 2014 after a photo of Devonte sharing a tender hug with a Portland police sergeant amid protests related to unrest in Ferguson, Missouri, garnered hundreds of thousands of shares and national media coverage. Before the photo was snapped, Devonte, then 12, had been holding a sign that read "free hugs."
The Harts previously lived Portland but moved due to intense media coverage, relatives told investigators.
Clark County officials told the Associated Press that Child Protective Services had recently the family's home but found no signs of trouble.
The Harts' neighbors said they had called CPS last Friday over concern that Devonte had come to their house multiple times in the past week asking for food, according to the AP. The neighbors also said one of the girls came to their door last year saying she needed protection and was being abused.
Anyone with information about the family's whereabouts can contact Mendocino County sheriff's investigators at 237-234-2100.