This is an archived article and the information in the article may be outdated. Please look at the time stamp on the story to see when it was last updated.
A day after a 4-year-old was shot and killed while playing with stuffed animals in front of a Highland home, investigators said Thursday they were searching for a man seen near the crime who may have been the intended victim.
Sheriff's deputies responded to a report of shots being fired around 8:30 p.m. Wednesday in the 7400 block of McKinley Avenue (map), officials said.
Responders found the injured boy, identified by officials as Daniel Munoz, and he was transported to a local hospital and pronounced dead.
The boy was staying with family members while his parents visited Knott's Berry Farm, his mother, Juliana Morales, said on Thursday afternoon.
Daniel had asked them if he could come with, too.
"I told him, 'Next time,'" Morales said through tears.
Investigators said relatives were present at the time of the shooting, but it was not clear if they were inside the home or outside in the yard with him. The number of shots fired was also unknown.
A neighbor said the boy had been inside the home most of the day prior to the shooting.
"I just heard like six gunshots, and when I came outside I didn't see anything, I just heard the grandma screaming," neighbor Angelica Garcia said. "She was saying, 'Why did I let him outside, why did I let him outside?'"
The boy was shot at least once in the neck, investigators said.
His death may have been the result of someone shooting at two people inside a vehicle seen near the home, said San Bernardino County Sheriff's Department Deputy Adams Cervantes.
Investigators were searching for the vehicle, a driver and a passenger. The car was described as a white 1990s four-door Toyota Camry with black bumpers.
The passenger was described as a Hispanic man in his early 20s, with brown hair, standing between 5 feet 8 inches to 11 inches tall, weighing around 160 to 180 pounds.
Investigators released an image of the man Thursday morning showing him wearing a white tank top. It was not clear where or when the photo was taken.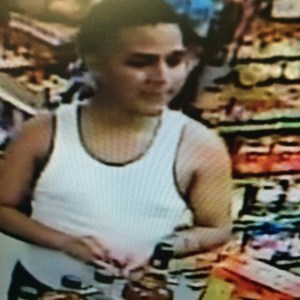 A description of the driver was not available.
"There's no information through the investigation that indicates that shots were fired from that vehicle," Cervantes said.
When asked if the area was known for gang activity, Cervantes said, "not to my knowledge."
It was not known if the shooting was gang related or how many weapons were used, he said.
Anyone with information was asked to contact Detective Justin Long or Sgt. Trevis Newport with homicide detail at 909-387-3589 or Sheriff's dispatch at 909-387-8313.
Correction: The victim's name was initially misspelled. The story has been updated with the correct spelling.
More Video: