This is an archived article and the information in the article may be outdated. Please look at the time stamp on the story to see when it was last updated.
A 5-year-old boy hospitalized in Westwood with stage four liver cancer got a surprise visit from an NFL Hall of Fame running back Monday after it was discovered his dream was to go to a Rams football game.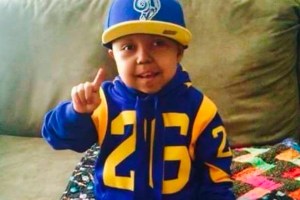 Not long after he was born doctors discovered Phoenix Murillo had kidney failure and removed both of his kidneys when he was just two weeks old, according to a GoFundMe page set up for Phoenix.
Phoenix received a kidney from his father and spent years on dialysis before doctors found he had cancer last year.
In August Phoenix was diagnosed with stage four liver cancer and had to return to the hospital.
Phoenix was in his hospital bed Monday at Mattel Children's Hospital UCLA when former Rams running back Eric Dickerson and Rams mascot "Rampage" dropped in to cheer him up and bring a few gifts.
During the meeting, Phoenix was surrounded by autographed footballs, pictures and T-shirts.
Phoenix's mother was grateful for the chance to giver her son a special day.
"We live in the the moment and we don't make plans. We're just thankful for another day," Susie Murillo said.
Dickerson empathized with Phoenix's mother and father who have spent a lot of time at the hospital.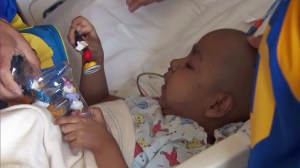 "You stay here a lot of nights just praying and hoping that something will change in their life and they may get better," Dickerson said.
Dickerson and Rampage also posed for a picture with Phoenix, who said it was his dream to take his dad to a Rams football game this fall.
On behalf of the Murillo family, RWO Rams Central is selling T-shirts at $20 each.
All proceeds will go directly to the Murillo family, according to the GoFundMe page.