This is an archived article and the information in the article may be outdated. Please look at the time stamp on the story to see when it was last updated.
Maria Alcantar sat on her front stoop on Friday afternoon as beans boiled inside her South Los Angeles home. They would be served at a vigil for three young neighborhood boys stabbed to death, allegedly by their father.
"We're all just confused," she said.
Ever since Luis Fuentes' wife died in 2008, he had been plagued by depression, say those who know him. Family tried to distract him by taking him to the beach and inviting him to barbecues, but nothing seemed to work, relatives said.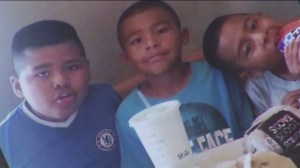 And nothing prepared his family and friends for the news that swept through their circles on Wednesday morning when the three sons Fuentes had fathered with his now-deceased wife were found fatally stabbed in the back seat of a silver SUV.
Click here to read the full story on LATimes.com.