This is an archived article and the information in the article may be outdated. Please look at the time stamp on the story to see when it was last updated.
Detectives were asking for the public's help Tuesday in identifying those responsible for stealing a $10,000 painting from an art gallery in San Pedro.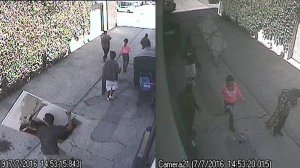 The theft occurred on July 7 at a gallery on Sixth Street and Pacific Avenue while the business was open, according to a news release from the Los Angeles Police Department.
The thieves were described as four men and a woman, between the ages of 18 and 24 years old, the release stated.
Surveillance video showed the group as they walked southbound down an alley toward Seventh Street after taking the painting.
Two of the men were carrying skateboards, while a third man wearing sunglasses was seen carrying the painting, the video showed.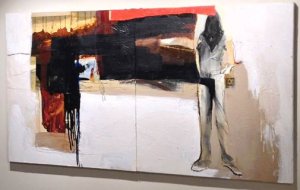 The woman was wearing a pink shirt.
The painting is a 3 foot by 6 foot mixed media on canvas by Neil Nagy called "Escondido."
It was created in 2004 and is valued at approximately $10,000, according to police.
A reward was being offered for the painting.
Anyone with information was asked to contact the Los Angeles Police Department's Art Theft Detail at 213-486-6940.
Those wishing to remain anonymous should call Crime Stoppers at 1-800-222-TIPS (800-222-8477).