This is an archived article and the information in the article may be outdated. Please look at the time stamp on the story to see when it was last updated.
YUCAIPA, Calif. (KTLA) — Funeral services are still pending for Jeremiah MacKay, the San Bernardino County sheriff's deputy killed in the final gun battle with Christopher Dorner.
Hundreds of rounds were fired on Tuesday as deputies surrounded a cabin in Seven Oaks where Dorner was believed to be holed up.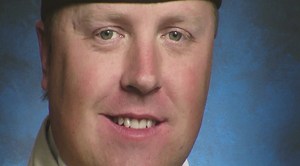 Two deputies were hit and were airlifted to Loma Linda University Medical Center, where McKay later died from his wounds.
MacKay, 35, leaves behind two children, a 7-year-old daughter and a 4-month-old son.
His body has been moved from the coroner's office to Mountain View Mortuary.
The sheriff's department had a small service on Thursday with color guard and bagpipes, then the procession to the mortuary was led by deputies on motorcycles.
MacKay joined the sheriff's department in July 1998, and he was also a field training officer with the department.
He was also a sergeant-at-arms for the Inland Empire Emerald Society, a charity that benefits the families of fallen soldiers.
MacKay was a sheriff's deputy based out of Yucaipa, and he graduated from Rim of the World High School in 1995.
"He was just a good man, and it's sad to see that his life was taken by someone else," neighbor Robert Aguilar said.
"The fact that he just had a child about four months ago, and he was so happy with the little boy."
Aguilar said that, just a few days ago, the two had a conversation about former LAPD officer and accused killer Christopher Dorner.
"He was hoping that it wouldn't end like this. He was hoping that he would jsut surrender," Aguilar recalled.
MacKay also spoke about the dangers of the Dorner manhunt with reporters on Saturday.
"This one you just never know if the guy's going to pop out, or where he's going to pop out," Jeremiah MacKay told the Associated Press.
"We're hoping this comes to a close without more casualties," he said. "The best thing would be for him to give up."
The other deputy, identified as Alex Collins, underwent surgery Tuesday afternoon and is expected to be okay.