This is an archived article and the information in the article may be outdated. Please look at the time stamp on the story to see when it was last updated.
When a 25-year-old mother posted of herself at her graduation from Cal State Long Beach last month, the response was intense.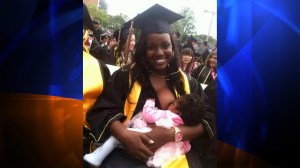 Why? The photo, taken by a friend on May 22, showed her breastfeeding her baby daughter at the ceremony, while clad in cap and gown and surrounded by other graduates.
Reposted by the Facebook page Black Women Do Breastfeed, the image went viral, appearing on Sunday on Buzzfeed and other sites.
Some called Downey mother Karlesha Thurman out for showing too much breast, or saying a graduation ceremony was an inappropriate place to feed her child.
Others rushed to her defense, decrying the shame sometimes heaped on mothers who breastfeed in public.
Still others targeted Thurman personally.
She responded by saying her baby had been her motivation to finish college. Thurman appeared on NBC's Today and ABC News and other programs to discuss the Internet firestorm, which she said had surprised her.
At the ceremony, she had only done what was natural in response to her young daughter's needs, she told KTLA.
"I realized she was hungry," Thurman said. "I did what I always do. I didn't think anything of it. I began to breastfeed her."
In addition to her newly minted accounting degree, Thurman said she hopes to use this experience to bring attention to public breastfeeding, which is legal anywhere at any time throughout California.