This is an archived article and the information in the article may be outdated. Please look at the time stamp on the story to see when it was last updated.
A British YouTube celebrity who had previously told police he was the victim of a hate crime pled guilty Tuesday to vandalizing a car in West Hollywood, officials said.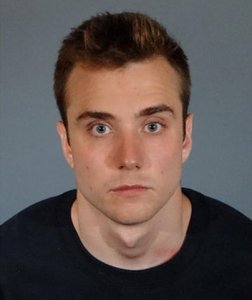 Calum McSwiggan — a London resident known by thousands of fans for his YouTube channel on lesbian, gay, bisexual and transgender issues — previously pled not guilty to a June 29 charge that he filed a false report when he told sheriff's deputies he had been beaten two days before, according to the Los Angeles County District Attorney's Office.
But prosecutors say McSwiggan, 26, actually damaged the mirror and bumper of a car before falsely claiming he was beaten by the vehicle's owner and two other men, with whom he had engaged in an altercation outside The Abbey. He was sentenced to three years felony probation and 52 anger management counseling sessions and ordered to pay $7,000 in restitution, authorities said.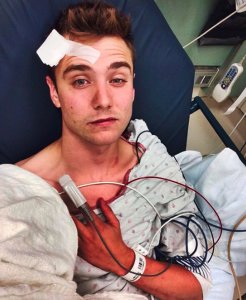 Immediately following the incident, McSwiggan had posted a photo of himself on Instagram on a hospital bed with a bandage on his head.
"With three broken teeth and six stitches in my forehead, I've never felt so terrified to be a gay man in the public eye," McSwiggan wrote in the post.
But sheriff's officials said they observed McSwiggan "injuring himself with the handle and receiver to a payphone" inside his jail cell, according to the Los Angeles Times.
After being charged, McSwiggan took to Facebook and said while he had caused his injury that required stitches, he insisted that he was attacked, though his memory of the incident was "hazy."
"Just because there were no visible marks on my face does not mean I was not attacked," he wrote. "Being accused of being a liar and being called a disgrace to the LGBT+ community, a community I've dedicated my life to, is more painful than any hate crime could ever be," he wrote.