This is an archived article and the information in the article may be outdated. Please look at the time stamp on the story to see when it was last updated.
Bruce Paddock, a younger brother of Las Vegas gunman Stephen Paddock, was arrested in Valley Village Wednesday and has been charged with possession of pornography and sexual exploitation of a child, authorities said.
The child pornography investigation took place in the 5300 block of Laurel Canyon Boulevard, Los Angeles Police Department Officer Mike Lopez confirmed to KTLA, and aerial video from Sky5 showed a man being taken into custody there about 8:40 a.m. An anonymous source initially confirmed the identity of the suspect as Bruce Paddock to the Los Angeles Times.
An LAPD news release later in the morning Wednesday stated that Bruce Douglas Paddock, 58, of North Hollywood, was arrested on suspicion of possession of child pornography.
Evidence was discovered inside a business in the 9000 block of San Fernando Road in Sun Valley where Paddock had been squatting, police said. The evidence was found after Paddock was evicted, but the suspect was a transient and could not immediately be located by investigators.
He was recently found at the Laurel Canyon Boulevard address, police said.
LAPD released a photo of Paddock "in case there may be victims of unreported incidents." Police asked for help finding those potential victims.
Paddock was charged Tuesday in a 20-count felony complaint for an arrest warrant.  He was charged with one count of possession of more than 600 images of child pornography, and 19 counts of sexual exploitation of a child, for crimes that allegedly occurred between Jan. 1 and Aug. 30, 2014.
He is being held on $60,000 bail, according to LAPD.
The owner of the Sun Valley business – an auto shop – earlier this month told KTLA about Paddock's squatting. He said he turned over evidence of child porn to police.
Hector Cruz, the auto shop owner, said that Bruce Paddock, his longtime friend, had threatened to kill him several years ago.
In 2014, Cruz alleged, Paddock was going through a difficult time and asked to fix his car at Cruz's shop. But Paddock essentially squatted in the shop, holing up in the attic and harassing workers for weeks, Cruz said.
Paddock brought a gasoline canister up to the roof of the shop and threatened to burn it down, Cruz said.
"He told me he was going to kill me," Cruz said.
Eventually, employees were able to get a restraining order and run Paddock off, Cruz said. Court records show Cruz sought a restraining order but a judge on Sept. 4, 2014, denied the request, saying clear evidence didn't exist to support Cruz's case.
In his request for the restraining order, Cruz wrote, "In addition to being afraid for my physical safety, I fear that as soon as (Paddock) is notified, he will attempt to damage or destroy the shop or the shop property."
Cruz described Paddock having an outburst on Aug. 6, 2014, after Cruz helped him get his car out of impound. Cruz said the incident came after Paddock had been a squatter at Cruz's shop in January 2014.
"He yelled, 'What are you doing with my f—— business,' as he had believed, without merit, that the shop location is somehow his business because he has been squatting there and utilizing the equipment," Cruz wrote.
Paddock began to threaten Cruz's life, he wrote.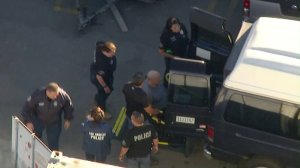 "If you keep f—— with me, I am going to kill you and drop you in the desert," Paddock said, according to Cruz.
Cruz went to police, who said he should get a restraining order.
Cruz described Paddock as a habitual drug user who used equipment in the auto shop to build things, including a remote-controlled "elevator" to access the attic he slept in. Paddock ignored requests that he move out, Cruz said.
While living at the shop, Paddock in March 2014 downloaded child pornography, prompting a visit from police that didn't initially result in charges, Cruz wrote.
Weeks after a judge denied Cruz's request for a restraining order, Paddock himself sought a restraining order against Cruz, saying Cruz had "bum rushed" and tried to tackle him, causing Paddock to twist his knee and ankle while escaping.
In early October 2014, Paddock's request was denied by a judge.
After the Las Vegas shooting, Cruz told KTLA he feared that Bruce Paddock would return with violent intentions.
An LAPD spokesman told the Times that there was no connection between the arrest of Bruce Paddock and the Vegas shooting, and that the investigation began before the massacre.
Stephen Paddock, 64, opened fire on a crowd of 22,000 concertgoers from his 32nd-floor hotel window in the heart of Las Vegas on Oct. 1.
The incident became the largest mass shooting in modern U.S. history, leaving 58 dead and wounding more than 500.
Stephen Paddock was found dead after the massacre of an apparent self-inflicted gunshot wound inside his hotel room.
On Wednesday morning, aerial video from Sky5 showed police putting a man who was in a wheelchair into a police van in the 5300 block of Laurel Canyon Boulevard. The man was taken into custody from Four Seasons Healthcare and Wellness Center, a nursing home, which confirmed police arrived at the facility Wednesday.
Police initially described Bruce Paddock as 59 years old, but booking information indicates he is 58.
Anyone with information about Bruce Paddock's alleged crimes is asked to contact LAPD Lt. Andrea Grossman or Officer Anthoney Keller at 562-624-4027
KTLA's Jennifer Thang contributed to this report.