This is an archived article and the information in the article may be outdated. Please look at the time stamp on the story to see when it was last updated.
A 28-year-old Army veteran pleaded not guilty to an illegal firearm charge on Thursday, a week after he and his younger brother were arrested when a shooting threat at a Whittier area high school led authorities to uncover a cache of weapons in their home, officials said.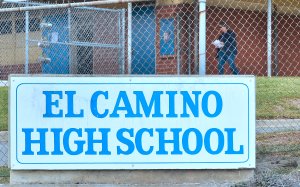 Daniel Eriberto Barcenas was charged with one misdemeanor count of possession of an assault weapon after officials uncovered an AR-15-style rifle in his Norwalk home, according to the Los Angeles County District Attorney's Office.
Sheriff's deputies investigated the residence on Feb. 16 after Barcenas' brother allegedly threatened to "shoot up the campus" of El Camino High School in South Whittier, where he is a student. The incident came two days after 14 students and three educators were gunned down at Marjory Stoneman Douglas High School in Parkland, Florida.
Officials previously told KTLA that the teen, who is not being identified due to his age, threatened to bring a firearm to school after a disagreement with a teacher over headphones. The claim was overheard by a school safety officer who alerted authorities.
The student was arrested on suspicion of making criminal threats, and a search warrant was served at his Norwalk home.
There, authorities say they found two AR-15 rifles, two handguns and 90 high-capacity magazines. All the firearms were unsecured, making them accessible to anyone in the house.
Army veteran Barcenas allegedly told investigators the guns all belonged to him, and that he had bought them legally in Texas before sending them back to California.
On Wednesday, L.A. County Sheriff Jim McDonnell told reporters one of the weapons was not registered, which he said is a felony in California.
McDonnell also said Barcenas could face charges including possession of an assault weapon, import of high-capacity magazines, criminal storage of firearms and failure to register a personal handgun.
So far, he has only been charged with assault weapon possession, a misdemeanor. DA's officials could not immediately be reached for comment on whether he was expected to face other counts.
Barcenas' next court appearance, a pretrial hearing, is set for March 19, prosecutors said.
The 28-year-old could face a maximum possible sentence of 364 days in county jail if convicted as charged.
L.A. County sheriff's detectives are continuing to investigate the case.