This is an archived article and the information in the article may be outdated. Please look at the time stamp on the story to see when it was last updated.
As prosecutors and law enforcement officials spoke of the arrest of the suspected 'Golden State Killer' Wednesday, one man made a plea to the state's voters to expand collection of DNA.
The arrest of Joseph James DeAngelo as the man accused of 51 rapes and 12 homicides across the state — after a 40-year search involving the FBI — came about through DNA evidence linking him to dozens of brutal crimes.
It's a point Bruce Harrington drove home as he spoke of how DNA evidence collected in the cases of his brother and sister-in-law's murders decades ago in Orange County had tied them to other criminal cases.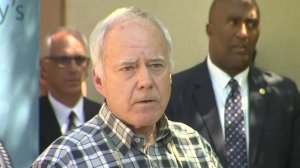 "Today is also a reaffirmation of the power and the public safety that's associated with forensic DNA evidence," he told reporters.
The day of the news conference, April 25, happens to be National DNA Day.
In praising the impact of DNA evidence, Harrington called on California residents to sign a petition in support of the "Reducing Crime and Keeping California Safe Act of 2018." It would change the state's parole system, reform theft laws and — as Harrington most emphasized — expand DNA collection.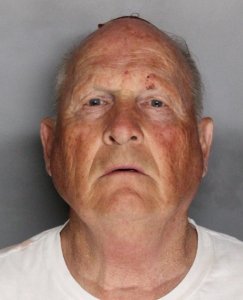 He said 500,000 signatures are needed by mid-June.
The draft of the proposed ballot initiative states DNA would be collected from "persons convicted of drug, theft and domestic violence related crimes to help solve violent crimes and exonerate the innocent" if it became law.
Such an expanded database of DNA "cuts down on future crime," Harrington said.
Still, opponents of the proposed legislation have said it would roll back recent progressive justice reforms that have cut down prison overcrowding, such as Propositions 47 and 57, as L.A. Weekly reported. Among their reforms, Prop 47 reduced some felonies to misdemeanors while Prop 57 expanded parole opportunities for nonviolent inmates. The Keeping California Safe Act would largely expand the definition of violent crime in rolling back those changes.
But Harrington said it's necessary to pass the legislation since it would "build up and improve and create an even more robust DNA database in California."
Law enforcement will continue to pursue justice as #GoldenStateKiller DeAngelo is investigated and prosecuted. On #DNADay we recognize the critical role of science in this case 🔬

📷: Bruce Harrington, brother of #DanaPoint victims pic.twitter.com/YEqXe8kgpX

— Tony Rackauckas (@OCDATony) April 25, 2018
For over a decade, he has been working to expand the collection and preservation of DNA in criminal cases in the state. During the early 2000s, he said, he stood before a senate committee "pleading that they embrace the power of DNA."
"In 2003, it became apparent nothing was going to happen through Sacramento," he said, placing the blame directly on lawmakers.
That year, Harrington tried pushing for legislation that would allow local agencies to collect DNA from people arrested on suspicion of murder and rape and ultimately, to have it collected from anyone arrested on suspicion of committing a felony, as the Los Angeles Times reported.
"What's driving me is a sense of wanting to avenge the death of my brother and his wife," Harrington told the Times in December 2003. "I believe that DNA technology is the last practical hope of resolving the who and why of [their] deaths."
On Wednesday, he appeared to finally find some solace in finding out who the DNA evidence linked to.
"To the entire reservoir of victims out there, my sadness is with you," he said.  "For the 51 ladies who were brutally raped in this crime spree, sleep better tonight."
"He isn't coming through the window. He's now in jail. And he's history," he said, just before stepping away from the podium.