This is an archived article and the information in the article may be outdated. Please look at the time stamp on the story to see when it was last updated.
Bruno, the Anaheim police dog who was critically wounded after being shot while on duty nearly two weeks ago, took "a serious turn for the worst" and underwent surgery late Tuesday according to the Yorba Regional Animal Hospital, where he is being treated.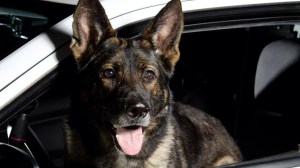 The 7-year-old German shepherd was "doing great" during the day, but developed a life-threatening problem called gastric bloat later that night, a post on the animal hospital's Facebook page said.
He underwent emergency surgery to treat the condition, which causes the stomach to fill with air and then twist, according to the post.
"The good news is that this was caught early but it is still very serious and can be life threatening," the post said. 
The surgery was "very successful," according to a post on the Anaheim Police Department's Facebook page.
An update on the animal hospital's Facebook page late Wednesday said Bruno was in stable condition, and that he would possibly need additional surgeries.
A post from the animal hospital earlier in the day following the surgery stated that he was "doing well."
Before the latest development, Bruno had been upgraded to fair condition Sunday after undergoing a second successful surgery last week for his injuries.
Bruno was shot in the face on March 20 after he found a gunman hiding near a trash can, according to Anaheim Police Department Lt. Tim Schmidt.
The shooting left his jaw shattered, his lung damaged and a bullet lodged close to his heart.
Officer R.J. Young, Bruno's partner, was at the hospital during the latest surgery, according to the animal hospital.