This is an archived article and the information in the article may be outdated. Please look at the time stamp on the story to see when it was last updated.
Firefighters are battling a pair of fast-moving brush fires that consumed some 4,500 acres in the San Gabriel Mountains, prompting the evacuation of about 685 homes as triple-digit temperatures hit the region Monday.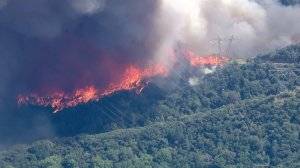 The two fires started midday within an hour of each other and just a few miles apart above the cities of Azusa and Duarte, where it was 109 degrees early Monday evening.
The first blaze erupted shortly after 11:15 a.m. along Highway 39 by the Morris Dam after a vehicle went over the side of the road and caught fire. Flames quickly spread up the canyon, U.S. Forest Service Fire Chief Robert Garcia said.
That fire, burning in the Angeles National Forest in steep terrain above Azusa, had charred 1,500 acres and was 0 percent contained at 9 p.m.
Dubbed the Reservoir Fire, the blaze prompted the evacuation of San Gabriel Canyon, a popular recreation destination. Azusa police issued mandatory evacuation orders for Mountain Cove and Rainbow Ranch. Voluntary evacuations were issued for Crystal Canyon and Mirador.
Soon after the Reservoir Fire broke out, another blaze — the Fish Fire –started less than 4 miles away. It began above homes in neighboring Duarte in the area of Brookridge and Opal Canyon roads.
As intense flames and thick black smoke spread, a person with a hose was apparently attempting to defend a home on the flaming hillside. Police vehicles soon showed up and aircraft dropped water and fire retardant in the area.
Horse stables at the Encanto Equestrian Center were in flames, which spread uphill, away from structures, video from Sky5 showed.
"It immediately started burning away from homes toward the forest. That was extremely fortunate for us because we did not have those houses in immediate peril," Los Angeles County Fire Department Deputy Chief John Tripp said.
The Fish Fire fire grew to 3,000 acres — at 0 percent containment — by about 9 p.m., according to a tweet from the Fire Department.
Authorities on scene said they were concerned winds would cause the two wildfires to merge into one large fire.
A sheriff's deputy suffered minor injuries due to smoke inhalation at the Fish Fire, a county fire official said. Tripp later said the injury was for a bee sting.
In Duarte, new mandatory evacuation orders were issued around 7:30 p.m. for homes north of Markwood Street between Westvale Road and Greenbank Avenue, and north of Deerlane Drive between Greenbank Avenue and Mountain Crest Road, according to an advisory from the Sheriff's Department.
"Residents in the Mount Olive Drive area just northwest of Conata Street, including those residents in the Spinks Canyon Road, Rim Road, Goldenmeadow Drive, High Mesa Drive, and Tall Pink Drive areas are also mandated to evacuate the area for safety purposes," the alert stated.
About 685 homes were evacuated in both fires, according to the city of Duarte. Additional evacuations could be ordered overnight, Tripp said at an early evening news conference.
Structure protection efforts will be in effect through the evening, Tripp said. At least one water-dropping helicopter with night vision will work after dark, he said, and the air attack will continue overnight.
An evacuation center was set up at the Duarte Community Center on Huntington Drive. Small animals may be taken there.
Large animals were initially being housed at the Hansen Dam Equestrian Center in Sylmar, but should now be taken to Gate 12 at the Pomona Fairplex, the Sheriff's Department stated Monday night.
Macelda Ramos and her three daughters packed up their vehicle with belongings and were getting ready to leave their home along Tall Pine Drive in Duarte Monday afternoon.
"We're not taking any chances — we've been through this before," she said, explaining that her family's house burned down in 1979. "We just want to make sure we have our pictures and things that mean a lot to us."
Duarte City Councilwoman Margaret Finlay said her parents have lived in the neighborhood near where the fire is burning for nearly 40 years.
"This area behind me hasn't burned for 35 years, so there's a lot of dry tinder out there and it's certainly burning now," Finlay said.
Her son lives along Opal Canyon and was under mandatory evacuation.
Both electrical transmission and distribution lines were threatened, a spokesman for Southern California Edison said. About 105 customers were without power due the fire in Duarte, Edison spokesman Robert Villegas said.
The Duarte Unified School District is closely monitoring the fire, which was burning north of Valley View and Royal Oaks Elementary schools, the district said in a statement.
School is not in session, and no students were at either campus, according to the district. Staff members were instructed to evacuate.
Multiple mountain roadways were closed by the fires, including Glendora Mountain road at Big Dalton Canyon Road; Glendora Ridge Road from Mount Baldy; and Mount Laurel Way at San Gabriel Canyon Road.
The brush fires broke out in the fifth year of a statewide drought and on the hottest day of a heat wave in Southern California; the triple-digit temperatures coupled with lower humidity levels had prompted the National Weather Service earlier in the day to warn of extreme fire danger in the region through Tuesday.
It was 112 degrees in the the Morris Dam area just after noon, with humidity at 8 percent, according to the National Weather Service. A southwest wind of 5 to 10 mph, with gusts as high 15 mph in the evening, was forecast.
The two fires were burning in the same general area as last year's Cabin Fire, which erupted Aug. 14 roughly 3 miles north of Highway 39 and Rincon-Red Box Road, according to the wildfire's InciWeb page. The Cabin Fire scorched 1,723 acres.
KTLA's Jennifer Thang, Cindy Von Quednow and Scott Williams contributed to this story. 
Smoke from the fire above Azusa, Ca is visible from Kenneth Hahn State Recreation Area. #LA #fire pic.twitter.com/gPjt55okfK

— Francine Orr/LATimes (@francineorr) June 20, 2016
#ReservoirFire Video of the Fire from the Command Post pic.twitter.com/0lmTEqCiRg

— Angeles_NF (@Angeles_NF) June 20, 2016