This is an archived article and the information in the article may be outdated. Please look at the time stamp on the story to see when it was last updated.
Voluntary evacuations were lifted Tuesday night for people living near the so-called Risner Fire, burning near the La Habra-Fullerton border, according to area police.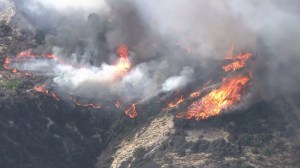 The blaze broke out near South Idaho Street and West Risner Way in La Habra around 4 p.m., a Fullerton Fire Department dispatcher said. The fire's location bordered Fullerton.
The fire was contained as of 6 p.m., according to a tweet from the City of Fullerton. The fire had burned 80 acres, according to a tweet from the Los Angeles County Fire Department at 7 p.m.
Prior to the evacuation orders, people could be seen using hoses to wet areas surrounding several houses on the fire's eastside.
About an hour later, voluntary evacuations were ordered for people living near West Street Andrews Avenue, West Riviera and South La Costa courts, according to Cindy Knapp with the La Habra Police Department.
"At this juncture, yes, it is voluntary but we do ask that they be mindful of the ferocity of a fire and that they take that into serious consideration and perhaps go ahead and evacuate," Knapp said.
Evacuees were advised to go to the La Habra Community Center at 101 West La Habra Blvd. or the Fullerton Community Center at Center 340 W. Commonwealth Ave., the city tweeted.
By 8 p.m., evacuees were being allowed to return home but had to show identification to enter the fire-affected areas, according to La Habra police.
Exact street closures were unclear, but drivers were told to avoid the area, and specifically South Idaho Street.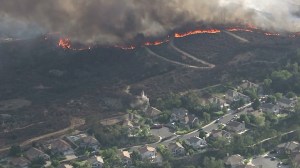 Firefighters faced near triple-digit temperatures, heavy brush and rolling hills during the fire fight.
"It's absolutely bone dry out here right now, very hot," La Habra Mayor Pro Tem James Gomez said. "We have multiple units in the area and their No. 1 priority is structures and homes."
Multiple agencies responded to the blaze, including firefighters with the L.A. County Fire Department.
Water-dropping helicopters and super scoopers also aided in the fight.
No homes or structures were damaged, and no injuries were reported.
The cause of the fire was still under investigation.
KTLA's Kennedy Ryan contributed to this story.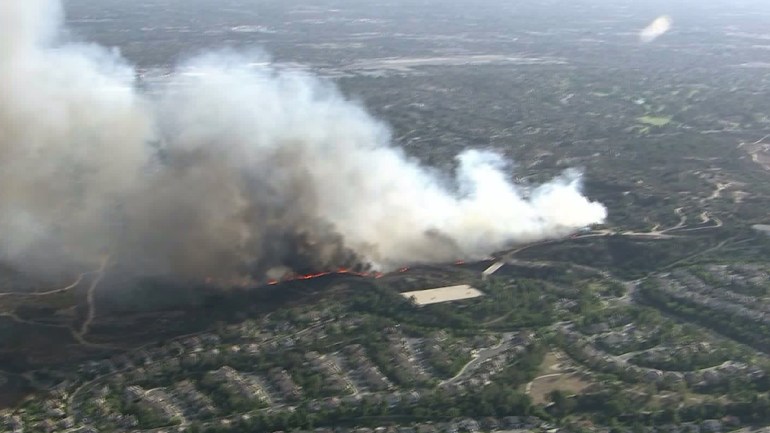 More video;