This is an archived article and the information in the article may be outdated. Please look at the time stamp on the story to see when it was last updated.
Fire crews have gained the upper hand on a brush fire in Riverside that burned 15 acres and destroyed a home in Riverside after it erupted Saturday afternoon.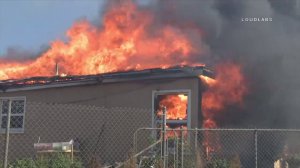 By 6:30 p.m., firefighters had knocked down the large blaze and were beginning to mop up, video from the scene showed.
At one point, the blaze was threatening homes in the 6900 block of Jones Avenue, according to a post on the Riverside Fire Department's Facebook page. Officials did not say whether any evacuations were ordered while the fire was burning.
The blaze rapidly spread to a residential area, fueled in part by high winds that swept through the region, the Fire Department said.
In addition to the home that was destroyed, at least two outbuildings were damaged.
It was unclear what sparked the destructive blaze, and the cause was under investigation.
No further information was immediately available.