This is an archived article and the information in the article may be outdated. Please look at the time stamp on the story to see when it was last updated.
Fire crews have knocked down a small brush fire that broke out in Castaic Saturday morning, authorities said.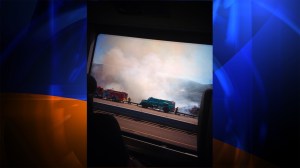 The fire was reported near the 5 Freeway and the Templin Highway (map) shortly before 11 a.m., according to the Los Angeles County Fire Department.
Initially reported at two to three acres, fire officials later revised that estimate to six acres. When fire crews first responded, the blaze was spreading uphill in an eastern direction, a tweet from the L.A. County Fire Department stated.
County fire crews attacked the blaze on the ground and by air, according to a separate tweet. Firefighters from the U.S. Forest Service also working to extinguish the flames.
The Santa Clarita Valley Sheriff's Station tweeted around noon that fire crews had extinguished the blames, and would remain on scene at least another hour to mop up.
No structures were damaged or destroyed, and no injuries were reported.
The fire was the latest to be reported during a week which saw multiple fires break out across San Diego and Los Angeles counties.