This is an archived article and the information in the article may be outdated. Please look at the time stamp on the story to see when it was last updated.
A wildfire that burned thousands of acres in Santa Barbara County prompted the declaration of  a local emergency as firefighters continued Friday to face difficult conditions.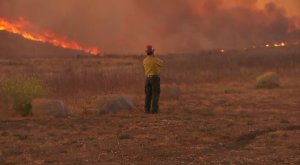 More than 1,200 personnel were responding to the fire, which has been burning since it started near Refugio Road, west of Goleta, on Wednesday.
The fire had scorched 6,321 acres and was 20 percent contained, according to a tweet from Santa Barbara County officials just after midnight. About 270 structures are threatened.
A water treatment plant that serves El Capitan State Beach burned down overnight, a California State Parks superintendent said. Camping reservations were likely to be canceled, he said.
Smoke from the fire was impacting air quality in Los Angeles and Orange counties, regional air regulators warned, and a haze could be seen across the area from the San Gabriel Mountains.
A declaration of local emergency was made by the county just after 10 a.m., said Supervisor Doreen Farr, who represents the area burning.
Agriculture and natural resources have been damaged, Farr said. Another official said avocados, olives, lemons and cattle-grazing lands were damaged.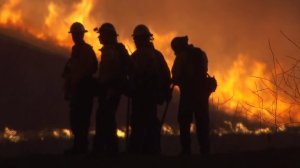 The fire comes as California continues into its fifth year of drought.
"It is ominous. We are concerned because the fuels out there are drought-stressed. There's a lot of tree mortality out there that makes fire behavior worse," Santa Barbara County Fire Department Chief Eric Peterson said. "The drought is making an already pretty volatile situation not any better."
County Sheriff Bill Brown warned residents to continue to heed mandatory evacuation orders and to be prepared to leave at a moment's notice in areas where evacuation warnings are in effect.
"This is still a very dynamic fire situation and we do not want residents … to be complacent," Brown said. "Even though conditions may appear to have become better during the day, the reality is things can change … very rapidly in the evening. We do not want our residents to have a false sense of security."
Officials estimated the fire, is expected to be contained sometime in the afternoon of Wednesday, June 22, the federal InciWeb page for the wildfire stated Friday morning. That statement was no longer on the site by midday.
Information about the fire, which is being referred to as both the Scherpa Fireand Sherpa Fire, is also available on the county's website.
Gusty sundowner winds have continued to fan the flames, pushing them down the mountain toward the coast, during the overnight hours. The winds once again forced the closure of the 101 Freeway through the region Thursday night.
Officials were able to reopen the Freeway about 4 a.m. Friday.
A heat wave was also expected to hit the region over the weekend.
Temperatures will rise into the 80s and 90s and humidity will drop, and sundowners are expected to again pick up about 5 p.m., National Weather Service Warning Coordination Meteorologist Eric Boldt said.
The heat wave will peak and humidity will plummet on Monday, Boldt said.
Cal Fire planned to increase staffing in Southern California during the heat wave.
Fire restrictions were in effect in Los Padres National Forest.
Air-quality warnings were in effect for the southern areas of Santa Barbara County through the weekend, unless conditions change, officials said.
Crews have successfully protected residential property in the El Capitan Canyon Area and El Capitan State Beach, according to the Inciweb site.
Mandatory evacuations were in place for areas of Refugio Canyon, Las Flores, Venadito, El Capitan Campground, El Capitan Canyon, El Capitan Ranch and Refugio Campground. About 400 phone lines received emergency evacuation notifications, Sheriff Brown said.
An evacuation warning was issue from El Capitan Canyon to Farren Road.
An evacuation center was set up at the Wake Center, located at 300 North Turnpike Road in Goleta, and Santa Ynez Union High School, according to the InciWeb page. Large animals can be taken to the Earl Warren Show Grounds.
The fire was being managed by the U.S. Forest Service, Santa Barbara County Fire Department and Cal Fire.
The cause of the fire was under investigation.
Why is Santa Barbara fire exploding at sunset? Explaining the danger of Sundowner winds pic.twitter.com/CFEQUfugu9

— Shelby Grad (@shelbygrad) June 17, 2016