This is an archived article and the information in the article may be outdated. Please look at the time stamp on the story to see when it was last updated.
Update: Crews continued to battle the Easy Fire on Thursday. An updated story is here. 
A massive fire exploded on the hills near the Ronald Reagan Presidential Library in Simi Valley early Wednesday, threatening thousands of homes and forcing the evacuation of residents and animals as strong Santa Ana winds tore through the area.
The blaze, dubbed the Easy Fire, erupted around 6:15 a.m. in the hills along Tierra Rejada Road, just north of the library. By 7:45 p.m., it had burned about 1,500 acres and was 5% contained, according to Cal Fire.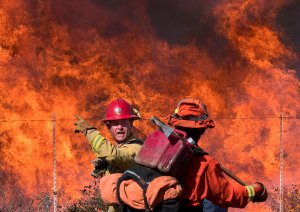 Officials had earlier estimated the fire at nearly 1,650 acres but later downgraded that figure.
The flames were threatening 7,000 residences, and roughly 30,000 people were ordered to leave their homes. Another 2,000 people were under evacuation warnings, Ventura County Sheriff Bill Ayub said.
At 6 p.m., fire officials reported they'd found two structures that were destroyed. Earlier, they'd said some outbuildings were leveled, and one residential structure was believed to be burning off Tierra Rejada Road.
Though officials said weather conditions had improved by the afternoon, California Highway Patrol reported that the flames jumped west across Highway 23 near Tierra Rejada Road at about 3 p.m.
Around the same time, Sky5 was over the Tierra Rejada Golf Club, where greens were lined with pink fire retardant as crews worked to put out spot fires charring the course. The flames also spread to a neighboring citrus grove.
🔥EASY FIRE🔥 The fire has just jumped the SR-23 freeway. Flames visible on the west side of the 23 just north of Tierra Rejada Rd. #EasyFire pic.twitter.com/EuAHTpHA0d

— CHP – West Valley (@CHPWestValley) October 30, 2019
Ventura County Fire Chief Mark Lorenzen said crews were able to "defeat" the flames that crossed the freeway and prevent them from spreading further west into the Santa Rosa Valley.
However, more evacuations are still possible, Lorenzen warned.
"We still are not through this," he said. "We have another 24 hours of significant weather conditions and a lot of threats."
The fire's cause remains under investigation.
But Southern California Edison reported circuit activity on power lines that run between Moorpark and Thousand Oaks around the same time the fire broke out, according to Saimon Islam with the California Public Utilities Commission.
More than 1,000 firefighters were battling the flames as of Wednesday evening, officials said.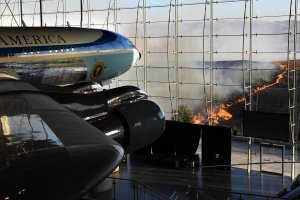 The library is "a very big concern for us," said Capt. Brian McGrath with the Fire Department, which deployed a significant amount of resources to the facility.
"It's a pretty tough situation here," said the library's executive director, John Heubusch. "There's never been fires this close to the library. It's a place of a national treasure and the flames are licking right up against it."
By about 10:40 a.m., crew appeared to have mostly extinguished the flames in the area surrounding the library.
A small blaze being handled separately as the Yosemite Fire broke out around 1:45 p.m., in a neighborhood off the 118 Freeway and Yosemite Avenue. It had prompted some residents to evacuate, but by 3:20 p.m. officials said it was under control and 80% contained at 1 acre.
Winds were blowing west, with the National Weather Service expecting gusts up to 60 mph at the ridgetops, according to the National Weather Service.
A weather station about 7 miles north  of Simi Valley recorded gusts at least 74 mph, considered to be the force of a hurricane. Humidities will be very dry throughout the day.
Forecast update: Critical to extremely critical conditions are expected to continue across parts of CA through the day. Late tonight/tomorrow morning, extremely critical conditions are expected to persist across southern CA. https://t.co/XSik9jKOOk pic.twitter.com/swk25WGqaI

— NWS SPC (@NWSSPC) October 30, 2019
Federal funds have already been approved to fight the fire, the Federal Emergency Management Agency said.
Some evacuation orders were lifted over the course of the day, but thousands in Simi Valley, Moorpark and nearby unincorporated areas remained affected.
Mandatory evacuation orders
South of Highway 118
North of Olsen and Madera roads
West of Madera Road
East of Highway 23
The Fire Department urged residents to check the county's website to see exact locations.
"Get out, and get out early," McGrath said.
Voluntary Evacuation Orders
West of Sunset Hills Boulevard and East Olsen Road
North of East Olsen Road
East of Morning Ridge Avenue
South of Sunset Hills Boulevard
The #EasyFire currently stands at 1,645 acres with zero containment. 1,000 firefighters continue to battle a wind-driven fire. All areas west of Highway 23 are being repopulated. Keep up with evacuation orders at https://t.co/h4HLpCop8s @VCFD_PIO @CountyVentura pic.twitter.com/p4xp8FadGO

— Ventura County Fire (@VCFD) October 31, 2019
Evacuation Centers
Thousand Oaks Community Center for residents and pets

2525 N. Moorpark Road, Thousand Oaks

Rancho Santa Susana Community Center open at 12:30 p.m. for residents

5005 E. Los Angeles Ave., Simi Valley

Earl Warren Showgrounds for large animals

3400 Calle Real, Santa Barbara

As of 1 p.m., the Ventura County Fairgrounds, Los Angeles Pierce College and Rancho Potrero Community Equestrian Center were full and no longer accepting large animals.
Many ranches are located in Simi Valley. At least one of them had several structures destroyed by flames, Sky5 video showed just before 11 a.m.
Near the Butler Ranch in the 1300 block of Tierra Rejada Road, people were seen trying to transport horses away from the flames as outhouses burned nearby.
Volunteers are on the ground trying to rescue animals, said Randy Friedman with Ventura County Animal Services.
"Do not let your horses run free," Friedman said.
Those who have horse trailers and want to help can text Animal Services at 805-469-0896 and indicate how many horses they can take, pictures of their license plate and drivers license, and where they're coming from. The agency does not need trucks without trailers, Freidman said.
#EasyFire: People are transporting horses away from the flames as outhouses burned nearby along Tierra Rejada Road https://t.co/CE4gQUcBwh pic.twitter.com/OtEu6ff2a7

— KTLA (@KTLA) October 30, 2019
Caltrans said motorists should avoid roadways near the evacuated areas. The county listed the following road closures:
Highway 23 between Los Angeles Avenue in Moorpark and Avenue de Los Arbloes in Thousand Oaks
118 Freeway off- and on-ramps at Yosemite Avenue closed until about 5 p.m.
Tierra Rejada Road between Moorpark and Simi Valley
School closures in Ventura County
The following college campuses and school districts canceled classes and activities for Thursday, Oct. 31:
Moorpark College
California Lutheran University (including the Thousand Oaks campus and Oxnard, Westlake and Woodland Hills centers)
Cal State Channel Islands
ACE Charter High School (Camarillo)
Briggs School District
Conejo Valley Unified School District
Fillmore Unified School District
Hueneme Elementary School District
Las Virgenes Unified School District
Mesa Union School District
Moorpark Unified School District
Mupu School District
Oak Park Unified School District
Ocean View School District
Oxnard School District (K-8)
Oxnard Union High School District
Pleasant Valley School District
Rio School District
Santa Clara Elementary School District
Santa Paula Unified School District
Simi Valley Unified School District
Oxnard College planned to assess conditions in the morning would provide an update by 6:30 a.m. Thursday.
Ventura College would be open.
Updated lists and details are available on the county's Department of Education and Community College District websites.
Here's a look at the wind gusts in the forecast for the next 24 hours. #cawx #SoCal #EasyFire pic.twitter.com/Ls64G5PXjL

— NWS Los Angeles (@NWSLosAngeles) October 30, 2019
Photo of the Easy Fire when it just started this morning, Oct. 30. Taken by Caltrans Maintenance Supervisor Ed Busby. #easyfire @CaltransDist7 @CountyofLA @CityofTO @VCFD_PIO @CaltransHQ @CHP_Ventura pic.twitter.com/WS02UhNOPE

— Caltrans District 7 (@CaltransDist7) October 31, 2019