This is an archived article and the information in the article may be outdated. Please look at the time stamp on the story to see when it was last updated.
BANNING, Calif. (KTLA) — Hundreds of firefighters were battling a fast-moving brush fire Wednesday burning near Highway 243 just south of Banning.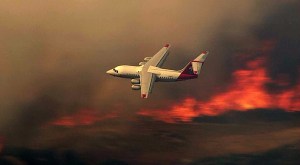 The blaze, dubbed the Silver Fire, broke out around 2 p.m. and had burned more than 6,000 acres as of 9:30 p.m., according to the Riverside County Fire Department.
More than 500 firefighters, along with four air tankers and five helicopters were sent to Poppet Flats Road to fight the fire.
Two firefighters and one civilian were injured, but no details were available, fire officials said.
At least 10 homes had been damaged or destroyed, fire officials said.
Mandatory evacuations were in effect for the communities of Mt. Edna, Vista Grande, Poppet Flats, Silent Valley and Twin Pines.
An evacuation center has been set up at Hemet High School on East Stetson Avenue.
Highway 243 was closed between Banning and Azalea Trail in Poppet Flats.
There was no word on what may have caused the fire.
Check back for updates on this developing story.