This is an archived article and the information in the article may be outdated. Please look at the time stamp on the story to see when it was last updated.
Fire crews responded to a brush fire that was burning near a high school in Pacific Palisades Thursday morning.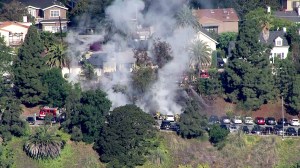 The fire was reported at about 8 a.m. near Palisades Charter High School located at 15777 Bowdoin St. (map).
Flames burned up a hillside and damaged several cars in a parking lot near the school, aerial video from Sky 5 showed.
Three fire engines responded to the fire, according to Katherine Main of the Los Angeles Fire Department.
Firefighters appeared to have the blaze under control by about 8:15 a.m.
No information on any possible injuries or a cause of the fire was immediately available.