This is an archived article and the information in the article may be outdated. Please look at the time stamp on the story to see when it was last updated.
A brush fire burning near the observatory on Mount Wilson Tuesday that threatened several structures — including the communication towers located at the top of the peak — has scorched 30 acres and was 25 percent contained.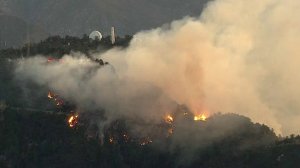 The blaze, dubbed the Wilson Fire, was reported about 4:30 a.m. and was visible from the Pasadena area below the peak and from miles farther away.
As of 9 a.m., the blaze had burned about 30 acres and and was 5 percent contained, according to the U.S. Forest Service. Nearly 12 hours later,  the acreage remained the same and containment increased to 25 percent.
Communication towers, including television broadcast equipment, were among the roughly 20 structures being threatened by the blaze, the Forest Service tweeted.
The Angeles National Forest said the following locations were closed due to the fire: Chantry Flats gate, Big Santa Anita Canyon trail, Hogees and Spruce Grove campgrounds and Eaton Canyon.
Smoke is expected to settle into areas surrounding Mount Wilson due to an inversion layer Tuesday night, meaning the San Gabriel and Crescenta valleys should be affected.
More than 200 firefighters and at least three helicopters were being used to battle the fire and protect the structures, according to officials. Five crews and 10 engines are expected to remain on the blaze overnight and aircraft will be available if needed, the Forest Service said.
#WilsonFire #Angeles, @LACo_FD, and @CAL_FIRE are protecting over $500 million in infrastructure assets. #OneTeamOneFight

— Angeles_NF (@Angeles_NF) October 17, 2017
Officials have evacuated the surrounding recreational cabins, according to the Forest Service.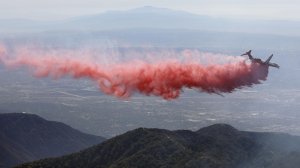 Red Box and Mount Wilson roads have been closed to the public.
Fuel reduction projects have been conducted since the beginning of 2017 to help mitigate the impact of a brush fire in the area, the Forest Service stated.
There was no immediate word on what caused the fire.
An information line was set up at 626-574-5208.
KTLA's Melissa Pamer contributed to this article.
Large air tankers and helicopters keeping the #WilsonFire in check from above as ground crews attack it from below pic.twitter.com/edxBwZk6dl

— Angeles_NF (@Angeles_NF) October 17, 2017