This is an archived article and the information in the article may be outdated. Please look at the time stamp on the story to see when it was last updated.
CAMARILLO, Calif. (KTLA) — The Springs Fire in Ventura County has burned at least 28,000 acres by Friday and is just 20 percent contained, Ventura County fire officials said.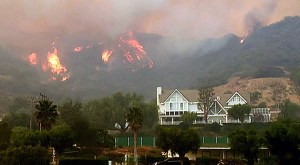 It has damaged 15 homes, five commercial properties and 15 outbuildings, according to Cal Fire.
Some 4,000 residences were  threatened, forcing hundreds of people to evacuate as firefighters scrambled to reposition after a 180-degree shift in the winds.
The Ventura County Fire Department said the air attack would end at sunset and the Springs fire would be attacked by ground crews.
"Barring unusual events, we do not expect to receive any new updates on the fire until tomorrow morning," authorities said in a statement.
Earlier Friday the fire hopped PCH and was burning at a Navy Seabee target range about two miles south of Las Posas Road.
Heavy smoke forced Navy officials to evacuate 118 families from Point Mugu base to a facility at Port Hueneme.
The blaze was reported around 6:45 a.m. Thursday just west of the southbound 101 near Camarillo Springs Road.
It quickly burned across the Camarillo landscape toward Newbury Park, scorching 100 acres in less than an hour.
Sky5 was overhead as flames consumed nearly half a dozen RVs in a storage parking area as well as an abandoned structure.
Several agricultural buildings also burned in the middle of a strawberry field.
By the afternoon, the fire had made its way to Point Mugu State Park on a trek toward the ocean.
It reached the coast Friday evening.
Viewer Submitted Photos: Springs Fire
An estimated 954 firefighters were battling the blaze, with more en route. They were aided by six air tankers, eight helicopters and two watertenders.
Fire Departments from across Southern California, the Ventura County Sheriff's Office, the CHP and many other agencies were cooperating in the firefight.
Officials said the fire continued to burn very actively overnight, fanned by gusty northeast winds.
Firefighters spent the night cutting away brush from homes and creating containment lines to slow the fire's spread.
EVACUATION SHELTERS
The Red Cross has established an evacuation shelter at Calvary Community Chapel, located at 380 Mobil Avenue in Camarillo.
A second shelter has been set up at Thousand Oaks Community Park, at 2525 N. Moorpark Road in Thousand Oaks.
A third Red Cross shelter is also open at Malibu High School, at 30215 Morning View Drive in Malibu.
Camp Bow Wow in Agoura Hills (101 Freeway and Kanan Road) will board small animals for free until the fire situation is resolved.Call (818) 889-CAMP for more information.
The Camarillo and Simi Valley animal shelters are also accepting small animals, according to Ventura County Animal Services.
Large animals may be brought to Ventura County Fairground. For help with large-animal evacuations, residents can call animal control at 805-388-4258.
-KTLA/Los Angeles Times