This is an archived article and the information in the article may be outdated. Please look at the time stamp on the story to see when it was last updated.
A fire that burned trees and brush in a wash near homes in Santa Clarita grew to 3 acres Monday but was 100 percent contained by early evening.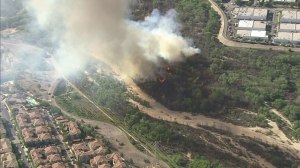 The fire was reported at 3:45 pm. at 24919 Magic Mountain Parkway in Santa Clarita (map), according a dispatcher with the Los Angeles County Fire Department.
The site of the fire was in a brushy area near homes, east of the 5 Freeway and about 1 1/2 miles from Six Flags Magic Mountain amusement park.
The blaze was initially described as a half-acre, but was up to 3 acres by about 5 p.m., according to the Fire Department's Art Marrujo.
As water-dropping helicopters worked to douse the flames, smoke could be seen billowing from the blaze for several miles.
Several people were handcuffed and detained at the scene, and authorities said they were being questioned for possible involvement in the blaze.
The individuals were later released, according to Lt. Derek Sabatini with the Los Angeles County Sheriff's Department.
Aerial video from Sky 5 showed the fire burning in wooded San Francisquito Canyon near the Promenade at Town Center Apartments.
Firefighters were lowering themselves into the wash from an embankment off a bike trail next to the canyon, Sky5's video showed.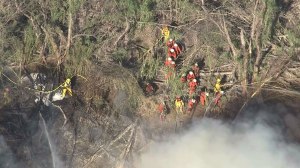 A prison inmate firefighter was injured and transported from the scene, Marrujo said. He appeared to have a stick impaled through his face.
A representative of the sheriff's Santa Clarita Valley Station said no evacuations had been ordered in the fire, but neighbors were uneasy.
"It's just crazy ... I guess it's fire season, so it's bound to happen," Dianne Rosales said. "There's a lot of houses around here, a lot of businesses that can go down."