This is an archived article and the information in the article may be outdated. Please look at the time stamp on the story to see when it was last updated.
A brush fire burning in the foothills above Sylmar, Lake View Terrace and Sunland-Tujunga scorched 11,000 acres, burned at least 30 structures and forced more than 100,000 people to evacuate their homes Tuesday.
By late afternoon, a state of emergency had been declared in both the city and county of Los Angeles, which had sent firefighters on Monday to battle the much larger Thomas Fire in Ventura County.
The Los Angeles County blaze, dubbed the Creek Fire, began about 3:42 a.m. near Gold Creek Road and Little Tujunga Canyon Road, county Fire Department Deputy Chief David Richardson said.
By midday, the fire had burned 11,000 acres and jumped the 210 Freeway. The blaze is likely to continue to grow due to powerful wind gusts in the area, authorities said.
As of 7 p.m., the blaze had scorched 11,377 acres and remained at 0 percent containment. Roughly 30 structures have been destroyed, 20 in the Kagel Canyon area and 10 in the city of Los Angeles, L.A. fire officials said.
The 210 Freeway has been shut down from from Sunland Boulevard on the east to the 5 Freeway on the west, and the 118 Freeway interchange with the 210 is also closed amid the firefight. Drivers are advised to take alternate routes to the south but were warned to expect severe congestions. Those who've evacuated will not be allowed to return home, police said.
The area north of the 210 Freeway from Lowell Boulevard on the east to the Glenoaks Boulevard off ramp on the west is under a mandatory evacuation order, according to the Los Angeles Fire Department. Evacuations have also been ordered in the Shallow Hills area, between Wentworth Street to the north, Wheatland Avenue on the west and Sunland Boulevard to the south.
[googlemaps https://www.google.com/maps/d/embed?mid=1p4yJENK8QwSepW0sNrN2B3P8TUAToRt6&w=640&h=480]
Los Angeles Mayor Eric Garcetti warned those not yet evacuated to be prepared to leave by gathering critical documents and putting them in a vehicle.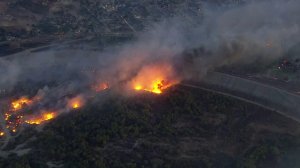 "Be ready to go," Garcetti said at a news conference as sirens screamed in the distance. "This fire could sweep up over the hills. Residents as far west as Porter Ranch should be ready."
At an afternoon news conference, Garcetti said more than 30 structures were "lost," and that some 150,000 people were affected by evacuation orders. He warned that those who've been evacuated should not expect to return to their homes Tuesday night.
"We simply don't know what this fire will do. To put this in perspective, it's already bigger than the La Tuna Canyon Fire in 12 hours," Garcetti said, referring to nearly 7,200-acre fire that burned nearby in September. "We expect to be out here all week, fighting and containing this fire."
The Federal Emergency Management Agency authorized the use of federal funds to help battle the Creek Fire, which FEMA said was threatening more than 7,100 homes and two SoCal Edison power transmission lines.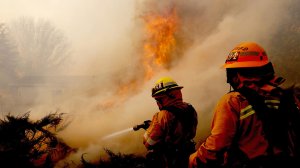 The blaze comes amid a red flag warning – due to low humidity and fierce Santa Ana winds – that is expected to last through much of the week. Fixed-wing aircraft are unable to fly and gusts of up to 45 mph are being felt, LAFD Chief Ralph Terrazas said.
One resident who was evacuated told KTLA he was surprised at how quickly the winds shifted.
"I went back to check the garage and then all of a sudden I felt some heat," George Stanley said. "The thing had moved almost half a mile, you know, in just a matter of seconds."
The weather conditions were impeding efforts to contain and extinguish the out-of-control blaze, as strong, gusty winds fueled the "extreme" fire behavior, according to the inciweb incident information website.
About 600 firefighters from multiple agencies were battling the inferno. L.A. County firefighters had been helping overnight on the massive Thomas Fire in Ventura County when they were called to the Creek Fire, authorities said.
One L.A. city firefighter was injured when a bulldozer rolled over. County fire Chief Daryl Osby said two of his firefighters were injured.
All three were in stable condition, according to LAFD. One was expected to be released Tuesday night, while another was set to be head home Wednesday.
Reed Gibson and his father Dale, who operate Gibson Ranch in Shadow Hills, lost several barns but were able to save the horses that are boarded on the property, where flames were encroaching Tuesday afternoon.
Gibson said there are 85 horses are boarded at the ranch and more than 20 cattle. Reed Gibson said he's lived at the ranch his whole life and has never had to evacuate horses due to fire, he said. The family isn't sure what the future holds.
"It was 19 years worth of work and labor getting this place done. I might be too old to start over again," Dale Gibson said.
Ten to 15 homes were damaged or burned in Kagel Canyon, the Sheriff's Department said Tuesday morning. Homes in the Santiago Estates development in Sylmar were visibly burned.
Video from KTLA showed one home engulfed in flames on Via San Anselmo as fire crews worked to keep it from spreading to the rest of the neighborhood. Other structures were spotted burning on nearby Via Santa Barbara.
About 105 patients were voluntarily evacuated from Mountain View Convalescent Center in Sylmar.
More than a dozen shelters have been set up to help evacuated residents. At most shelters, pets are allowed to stay with their owner or owners.
Sylmar Recreation Center – 13109 Borden Ave., Los Angeles, 

818-367-5656

Branford Recreation Center – 13306 Branford St., Arleta, 

818-893-4923

Sun Valley Recreation Center, 8133 Vineland Ave., Sun Valley, 

818-767-6151

Granada Hills Recreation Center, 16730 Chatsworth St., Granada Hills, 

818-363-3556

Stonehurst Recreation Center – 9901 Dronfield Ave., Sun Valley, 

818-767-0314

Valley Plaza Recreation Center – 12240 Archwood St., North Hollywood, 

818-765-5885

North Hollywood Recreation Center – 11430 Chandler Blvd., North Hollywood, 

818-763-7651

Chatsworth South Recreation Center, 22360 Devonshire St., Chatsworth, 

818-341-6595

Van Nuys Sherman Oaks Recreation Center, 14201 Huston St., Sherman Oaks, 

818-783-5121

Mason Recreation Center, 10500 Mason Ave., Chatsworth, 

818-998-6377

Woodland Hills Recreation Center, 5858 Shoup Ave., Woodland Hills, 

818-883-9370 

Delano Recreation Center, 15100 Erwin St., Van Nuys, 

818-756-8529

Balboa Recreation Center, 17015 Burbank Blvd., Encino, 

818-756-9642

Victory Vineland Recreation Center, 11117 Victory Blvd., North Hollywood, 

818-985-9516

Yosemite Recreation Center – 1840 Yosemite Dr., Los Angeles, 

323-257-1644

Glassell Recreation Center, 3650 Verdugo Rd., Los Angeles,  

323-257-0216

Chevy Chase Recreation Center, 4165 Chevy Chase Dr., Los Angeles, 

818-550-1453
Three animal shelters are also still accepting animals:
Antelope Valley Fairgrounds (accepting large animals, including horses) – 2551 W Avenue H, Lancaster, 

661-948-6060

West Valley Animal Shelter (small animals only) – 206555 Plummer St., Los Angeles, 

888-452-7381

East Valley Animal Shelter (small animals only), 14409 Vanowen St., Los Angeles, 

888-452-7381
 Multiple schools have been evacuated and students are being asked to go to alternate campuses.
The fire erupted as hundreds of firefighters are battling the 50,500-acre Thomas Fire near Ventura. Several other fires are burning in Southern California as well, including the Rye Fire in Santa Clarita.
#CreekFire update: See attached photo for schools being evacuated. And locations where students were evacuated to. #lausd #fire #evacuations #KagelCanyon pic.twitter.com/xri4pbUnuY

— LA School Police (@LASchoolPolice) December 5, 2017
Smoke Advisory due to #CreekFire. Unhealthy air especially in San Fernando Valley & coastal areas incl Malibu & Santa Monica.
Details and precautions at: https://t.co/f2Z6Bu2Iq8 @LACoFDPIO @LACOOEM @LAFD @LASDHQ @ReadyLA pic.twitter.com/YbvuTTUXeO

— LA Public Health (@lapublichealth) December 5, 2017