This is an archived article and the information in the article may be outdated. Please look at the time stamp on the story to see when it was last updated.
About 375 firefighters on Wednesday evening halted the forward progress of a "low-intensity" brush fire that scorched 78 acres in the Lake Sherwood area, the Ventura County Fire Department said.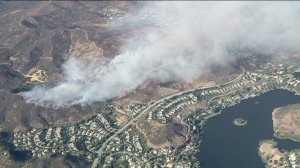 No structures were threatened by the blaze, which broke out near Thousand Oaks shortly before 4 p.m. and was driven by light winds, fire Capt. Mike Lindbery said on Twitter.
There were no reports of injuries.
The fire was 0 percent contained as of 7 p.m., according to the captain, and was stopped about 2 1/2 hours later. Fire crews were expected to remain at the scene overnight.
News video from Sky5 showed active flames on hillsides above residential communities. Helicopters and fixed-wing aircraft from multiple agencies were seen dropping water and fire retardant from overhead.
No evacuation orders were issued.
An incident commander at the scene initially requested the closure of Potrero Road between Westlake Boulevard and Lake Sherwood Drive, according Lindbery. Shortly before 8 p.m., a "soft closure" of Potrero Road was announced between Pixton Street and Vista Oaks Way, meaning that only residents would be allowed into that area.
The Fire Department advised those living near the fire zone to "please stay indoors, close your windows & turn off air conditioners to avoid bringing smoke into the house," and "to be prepared to leave if conditions change."
#SherwoodFire Fire growth has been stopped. Map shows perimeter. Firefighters will work through the night to contain pic.twitter.com/aGLqEreHv4

— VCFD PIO (@VCFD_PIO) July 14, 2016
#SherwoodFire Firefighters attacking south side fire. Low intensity near structures. Good progress with air support pic.twitter.com/M4MrbuUMj3

— VCFD PIO (@VCFD_PIO) July 14, 2016
Sherwood Fire continuing to grow and threaten homes. @VCFD @toaksvcso pic.twitter.com/1ipr6aukN7

— VenturaCoAirUnit (@VCAirUnit) July 14, 2016
#SherwoodFire; View our friends @VCFD_PIO & @VCFD for updates. #BrushFire pic.twitter.com/YA4KVXYyIJ

— 🅔🅡🅘🅚 🅢🅒🅞🅣🅣 (@PIOErikScott) July 14, 2016
We have a Firehawk helicopter assigned to assist @VCFD with the #SherwoodFire near Thousand Oaks. Follow @VCFD_PIO for the latest.

— LACoFireAirOps (@LACoFireAirOps) July 14, 2016
#SherwoodFire IC requesting closure of Potrero Rd btwn Westlake Bl. And Lake Sherwood Drive. Estimated 30-40 acres

— VCFD PIO (@VCFD_PIO) July 13, 2016
https://twitter.com/WlvmomDarcey/status/753376269538959360