This is an archived article and the information in the article may be outdated. Please look at the time stamp on the story to see when it was last updated.
A brush fire burned through more than 500 acres in Moreno Valley Friday afternoon, destroying an outbuilding, authorities said.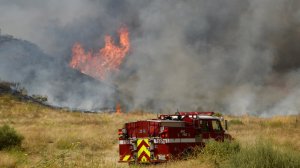 Dubbed the Jerry Fire, it broke out just after 1 p.m. and burned through about 522 acres by 6:15 p.m., according to Cal Fire Riverside. By that time, the fire was described as 20% contained.
Two hundred and seventy-five firefighters were working to put out the fire, managing to stop its forward rate of spread by around the same time, according to the Riverside County Fire Department.
The vegetation fire was reported along Gilman Springs Road, between Highway 60 and Jack Rabbit Trail, according to the department.
Earlier, just after 3 p.m., officials had described it as burning with a "rapid rate of spread."
Fifteen residents along Gilman Springs were being evacuated from the area, authorities said shortly before 5 p.m. But those orders were lifted just over an hour later as officials confirmed an outbuilding was destroyed in the flames.
Authorities had received multiple reports of several spot fires near the road, with the first firefighters on scene saying there were four such blazes each about a mile apart when they arrived, according to the department.
The fires had each burned through about an acre at the time.
The U.S. Forest Service was bringing in a helitanker from the San Bernardino Air Tanker Base, according to San Bernardino National Forest officials, while at least two other helicopters were also assisting in the efforts.
Some roads in the area around Gilman Springs were closed as firefighters continued battling the blaze.
#JerryFire [UPDATE] – The fire is 522 acres and 20% contained. Forward rate of spread has been stopped. 1 outbuilding destroyed by the fire. All evacuation orders lifted. Resources will remain on scene t/o the night. Next update in the am unless significant activity occurs.

— CAL FIRE Riverside (@CALFIRERRU) June 22, 2019
#JerryFire 🚧Some road closures🚧 Gilman Springs between Alessandro & Old Golf Course and Gilman Springs at Sanderson. Please use alternate routes and give yourself plenty of time to reach your destination. https://t.co/5gl9mgi7ZG

— Riverside County Sheriff's Dept (@RSO) June 21, 2019
Brush Fire along Gilman Springs Road south of 60 fwy near homes. pic.twitter.com/RLnCpFiTWC

— TERRY PIERSON (@Fotogodterry) June 21, 2019
Images from today's #JerryFire in Moreno Valley. pic.twitter.com/gWeQ7Of9jZ

— CAL FIRE Riverside (@CALFIRERRU) June 21, 2019