This is an archived article and the information in the article may be outdated. Please look at the time stamp on the story to see when it was last updated.
Three people suffered minor injuries as a brush fire burning in the Stevenson Ranch area spread to cover to 128 acres on Monday, authorities said.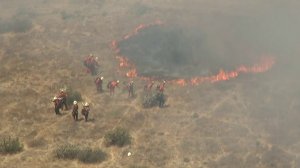 The Pico Fire erupted in the 26000 block of West Pico Canyon Road shortly before 1 p.m. and quickly charred 4 to 5 acres, the Los Angeles County Fire Department tweeted.
Within 45 minutes, the blaze had grown to 10 acres as it burned through medium to heavy brush in an oil field in the unincorporated Santa Susana Mountains.
But the blaze continued to grow quickly, burning through 90 acres within about two hours before fire officials declared that forward progress had been stopped.
Containment was estimated to be at 50 percent by 9:30 p.m.
More than 120 firefighters were initially dispatched to the scene to battle the flames from the ground, with at least one helicopter making water drops on the fire, according to L.A. County Fire Inspector Sal Alvarado.
But by 2 p.m., an additional 100 firefighters were at the scene working to contain the blaze, according to the Fire Department.
"We really want to get on top of this fire as soon as possible," he said.
Three minor injuries were reported in the Pico Fire, all heat related, according to the Fire Department. It was unclear whether the injured were firefighters, civilians or a combination of both.
Sky5 aerial video showed plumes of smoke drifting above the Santa Clarita Valley, but the fire did not threaten any structures, officials said.
No evacuations were ordered, but the Santa Clarita Valley Sheriff's Station said it was closely monitoring the situation.
Temperatures in the area where the fire was burning reached 106 degrees by early Monday afternoon, according to National Weather Service forecasts.
Heat and low humidity were contributing factors in the fire's quick growth, Alvarado said.
The blaze erupted as a heat wave hit Southern California, and with hot and dry conditions expected for the next several days, Alvarado said he anticipated a "long week."
KTLA's Cindy Von Quednow contributed to this story.