This is an archived article and the information in the article may be outdated. Please look at the time stamp on the story to see when it was last updated.
A brush fire near Murrieta burned through hundreds of acres Wednesday as it continued to spread rapidly, according to Cal Fire.
At 9 p.m., Cal Fire tweeted that the fire had burned 994 acres. Only an hour earlier, the fire was listed at 250 acres and was 5% contained.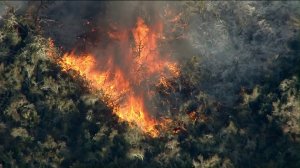 Officials have issued a mandatory evacuation order for all homes along The Trails Circle in La Cresta.
Riverside County Department of Emergency Management released a map of the evacuation area.
The wildfire was reported at 3:56 p.m. near the intersection of Tenaja Road and Clinton Keith Road — growing to 50 acres by 6 p.m. and reaching 150 acres just 30 minutes later, authorities said.
Sky5 was over the area as 270 firefighters battled the growing flames along several hillsides. Plumes of smoke arose from the shrubbery as a helicopter dropped streams of bright red fire retardant.
A stretch of Clinton Keith Road south of Calle del Oso Oro as well as Tenaja Road remained closed as firefighters continued trying to contain the blaze, authorities said. Mandatory evacuation orders were also issued to residents in that area.
A care and reception center has been established at Murrieta Mesa High School, at 24801 Monroe Avenue, Cal Fire said. Small animals are accepted. Large animals can be taken to the San Jacinto Animal Shelter at 581 S. Grand Avenue in San Jacinto.
Murrieta Valley Unified School District announced on Facebook that schools would be closed on Thursday.
Murrieta Fire & Rescue tweeted a map showing evacuation zones.
Please see this map of the Copper Canyon area for those in the evacuation zones. The yellow highlighted area is the mandatory evacuation area referenced on this map. pic.twitter.com/tmgXRm7SGA

— Murrieta Fire & Rescue (@MurrietaFire) September 5, 2019
#TenajaFire Mandatory evacuations are now being issued to residents in Copper Canyon South of Calle del Oso Oro between Clinton Keith and Murrieta Creek at Calle del Oso Oro.

— RivCoReady (@RivCoReady) September 5, 2019
South Coast Air Quality Management District issued a smoke advisory for the surrounding area.