This is an archived article and the information in the article may be outdated. Please look at the time stamp on the story to see when it was last updated.
A third-alarm brush fire in Santa Clarita grew to 350 acres Wednesday, prompting freeway closures and the evacuation of about 1,000 people, and leaving at least one firefighter with minor injuries.
The fire broke out shortly after 1 p.m. at Calgrove Boulevard at the 5 Freeway (map), according to the Los Angeles Fire Department, which was providing mutual aid.
Dubbed the Calgrove Fire, the blaze was 5 to 10 acres as of 1:37 p.m., the Los Angeles County Fire Department stated on Twitter. By about 4 p.m., it was 100 acres. The wildfire had doubled in size to 200 acres by 6 p.m.
By 10 p.m., fire officials tweeted that the fire was holding steady at 350 acres and 45 percent contained. All evacuation orders were rescinded at that time.
A second fire broke out just after 5 p.m. on the other side of Santa Clarita at Soledad Canyon Road and Shadow Pines Boulevard (map). Within about a half-hour, the Gator Fire had grown to 5 acres but was soon fully contained.
About 450 firefighters were on the ground, and they were being aided by multiple helicopters and fixed-wing aircraft, county fire officials said.
"We're making decent progress, although the temperature's at 90 degrees with the humidity at 16 (percent)," county fire Capt. Keith Mora said. "These fuels are primed for this type of situation. This fire is growing and it's growing fast."
Large "flames links" from the blaze could create spot fires, Mora said.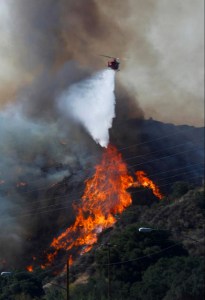 At the height of the fire, about 100 people were evacuated from Crescent Valley Mobile Estates in Newhall, and about 15 homes were evacuated on La Salle Canyon Drive, Sheriff's Department Cmdr. Mike Parker said on Twitter.
Mandatory evacuations were also in place on Pine Street south of Railroad Avenue.
In all, about 1,000 people had been evacuated, Parker said about 4:15 p.m.
An evacuation center for residents was set up at West Ranch High School at 26255 Valencia Blvd.
Thirty horses were moved to an emergency animal evacuation center at Hart Park, 24151 Newhall Ave., Parker said.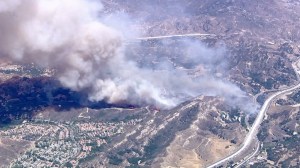 Meanwhile, smoke towered from the flames, looming over residential developments as firefighters worked to protect homes, aerial video from Sky5 showed.
One firefighter and an inmate firefighter had minor injuries, county fire Specialist Randall Wright said. Later, at a 5 pm. news conference, a fire official said only one firefighter was injured when he fell and was burned. He was hospitalized.
All lanes on the 5 Freeway just south of Gavin Canyon were temporarily blocked, according to CHP. Some lanes reopened after more than an hour, but were subject to being closed again at any time.
Traffic was jammed, the California Highway Patrol's Southern Division said.
Northbound traffic was diverted off onto State Route 14, while southbound traffic was temporarily stopped.
More Video: