This is an archived article and the information in the article may be outdated. Please look at the time stamp on the story to see when it was last updated.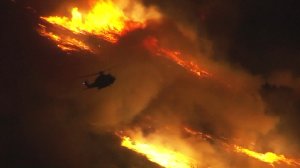 A brush fire that broke out at the Aliso Canyon gas facility near Porter Ranch Tuesday night has been fully contained, the Los Angeles County Fire Department said Wednesday.
The fire was first reported in the 12800 block of Tampa Avenue about 9:15 p.m., according to Erik Scott with the Los Angeles Fire Department.
The Southern California Gas Company confirmed the fire was burning near the Aliso Canyon gas facility.
We're aware of fire @ Aliso Canyon & cooperating w 1st responders, inc. @LAFD / @LAPD, as they work to keep community safe. #SesnonFire 1of2

— SoCalGas (@socalgas) October 19, 2016
Crews had to deal with 40 mph gusts as they battled the blaze with the help of several helicopters Tuesday night.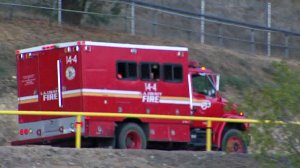 By Wednesday morning, the blaze had scorched 28 acres and was 85 percent contained, said Supervisor Michael Pittman with the Los Angeles County Fire Department.
The fire department scaled down the containment amount to 75 percent before announcing shortly before 1:30 p.m. that it was 100 percent contained.
Crews were continuing to look for potential hot spots as the region remained under red flag conditions.
"We're going to see critical relative humidity values, 90-degree temperatures, and more of theses gusty winds. So the fire danger is only going to increase," said Capt. Daniel Curry with the Los Angeles Fire Department.
No structures were threatened by the fire and no injuries were reported.
The Aliso Canyon gas facility made national headlines late in 2015 when a four-month long gas leak forced thousands of residents to evacuate their homes.