This is an archived article and the information in the article may be outdated. Please look at the time stamp on the story to see when it was last updated.
A brush fire broke out near the spot where a police chase came to an end in Moreno Valley on Thursday afternoon, scorching two homes and nine vehicles before firefighters surrounded the flames, authorities said.
The fire was first reported about 4 p.m. in the area of Bay and Phillis avenues, according to Calfire. It quickly grew to at least five acres in size.
Two single-family homes and an outbuilding caught fire and were severely damaged, fire officials said. Nine vehicles sustained severe damage or were entirely destroyed, and three outbuildings burned down.
Firefighters declared the fire contained just after 6:30 p.m.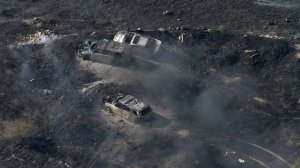 Aerial footage from Sky5 showed two SUVs and a car that had been charred by the flames. The SUVs appeared to be fitted with law enforcement-style light bars.
Prior to the fire, "Deputies located a stolen vehicle that was mobile in the city," The Riverside County Sheriff's Department said via social media.
"Deputies pursued the vehicle and detained 2 persons," the sheriff's department statement continued. "There is also a fire in the area of Bay and Grant. Stay out of the area."
The fire originated at the end of the pursuit, but the specific cause was not clear, Riverside County sheriff's Deputy Mike Vasquez told KTLA. It was not known whether the involved deputies suffered any injuries.
Towngate Elementary School, 22480 Dracae Ave., was being used as an evacuation site for affected residents before firefighters got the flames under control.
Seventy-one homes were under evacuation orders, and another 16 were placed under evacuation warning during the fire, officials said. All evacuations were lifted by 10 p.m.
KTLA's Nidia Becerra contributed to this report.
#BayIncident photos pic.twitter.com/rQqEKPK3JN

— CAL FIRE Riverside (@CALFIRERRU) August 16, 2019
#MorenoValley
Towngate Elementary School (22480 Dracaea) will be the evacuation site for the fire in Moreno Valley. Updates to follow as more information is obtained. Please stay out of the area – Bay Avenue between Grant and Ellsworth. https://t.co/nIVUPtCEEw

— Riverside County Sheriff's Dept (@RSO) August 16, 2019
#BayIncident [UPDATE] – A total of 71 homes were under an evacuation order & 16 were under an evacuation warning. All evacuations on Cottonwood Ave east to Elsworth St have been lifted. All other evacuations will remain in place until tomorrow morning.

— CAL FIRE Riverside (@CALFIRERRU) August 16, 2019
#BayIncident [UPDATE] – There is also 5 acres of grass & 2 vehicles involved. Firefighters are continuing suppression efforts. Please contact Riverside County Sheriff's Department.

— CAL FIRE Riverside (@CALFIRERRU) August 16, 2019