This is an archived article and the information in the article may be outdated. Please look at the time stamp on the story to see when it was last updated.
Alongside water-dropping helicopters and fixed-wing aircraft, more than 160 Los Angeles firefighters battled a 10-acre brush fire that burned below homes in an affluent coastal area of Pacific Palisades on Tuesday.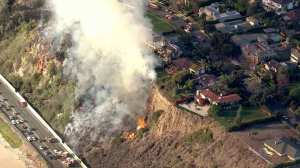 The fire was initially reported as burning about 2 acres and threatening structures, but that threat was later called minimal, according to Brian Humphrey of the Los Angeles Fire Department.
The blaze, reported at 3:08 p.m. in the 14800 block of Pacific Coast Highway (map), came amid red flag warnings and critical fire danger across much of Southern California.
Wind was not a factor, Humphrey said.
Vegetation on cliffs between homes and PCH could be seen burning in towering flames as helicopters performed water drops. Firefighters appeared to protect homes on Corona del Mar (map), a street above PCH, aerial video showed.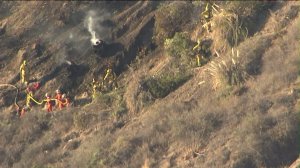 Fixed-wing aircraft also dropped water on the blaze, which was dubbed a "major emergency brush fire."
The fire was declared knocked down and held to 10 acres with no structure damage just before 5 p.m.
Flooding was reported not far from the fire — at Ocampo and Alma Real drives (map) — at about that time, according to Humphrey. A spokeswoman with the Los Angeles Department of Water and Power said the flooding was related to the fire, but the cause had not been determined.
Northbound lanes of PCH were closed while the Fire Department responded to the blaze, and Humphrey advised drivers to avoid the area.
The westbound 10 Freeway, which turns into PCH, was closed at Lincoln Boulevard, with traffic being routed off into Santa Monica.
Traffic was backed up for miles, with southbound PCH lanes also blocked for some time by fire equipment.
As 9:45 p.m. one lane in each direction had been reopened on the bust stretch of highway, authorities said. There was no time estimate for reopening the entire road.
No injuries or evacuations were reported.
The cause of the fire was under investigation.