This is an archived article and the information in the article may be outdated. Please look at the time stamp on the story to see when it was last updated.
Police are investigating a possible hate crime in Buena Park after a Presbyterian church was graffitied with swastikas and German writing, authorities said Saturday.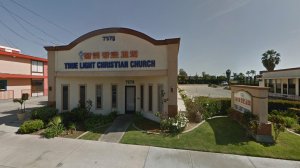 The vandalism was reported Saturday morning around 7:40 a.m. at True Light Christian Church in the 7300 block of Orangethorpe Avenue, according to a statement from Buena Park Police Department. The ministry's congregation is primarily Korean.
The unknown suspect or suspects used spray paint to deface the church's outside walls, officers said. Police did not have images, but photos shared by the Orange County Register show red graffiti markings spelling "mein Ehrenheit," or "my honor" in German, and a broken heart with the words "toxic love," as well as numerous swastikas.
There were also more cryptic markings, like the words "apple" and "cherry," as well as something that appears to say "Jerve" or "Jerue." One partially visible marking seems to indicate the vandalism was carried out on Dec. 8.
Officials have not yet determined a suspect description and said there was "no indication as to why this location was targeted" but it will be investigated as a possible hate crime "based on the nature of the vandalism and the proximity to the church."
The church has been a frequent target of similar vandalism incidents, the OC Register reported, and has spent $1,000 this year alone to clean up defacement.