This is an archived article and the information in the article may be outdated. Please look at the time stamp on the story to see when it was last updated.
Hundreds of people turned out Wednesday night to show their support for the family of a 12-year-old boy who died after playing soccer Tuesday at an elementary school in Colton.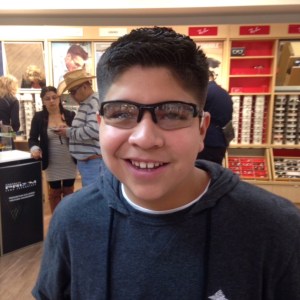 Joel Gallegos said his son Dominick was taking part in a physical education class on a field at Ulysses S. Grant Elementary School just before the end of the school day when he somehow ended up on the ground.
School officials told him that Dominick had fallen and lost consciousness after running into another student, Gallegos told KTLA on Wednesday.
Dominick was taken to a local hospital, where he was pronounced dead.
Katie Orloff, a spokeswoman for the Colton Joint Unified School District confirmed that a student had died and said a crisis team was at the school Wednesday. She did not provide any details of what had occurred.
"Everybody here is trying to do their best to support each other and work through it as the community that we are." Orloff said.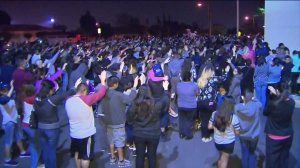 Detectives were sent to the hospital and ruled out any type of assault or physical injury that may have happened at the school, according to Colton Police Department Officer Todd Smith, the school's resource officer.
Smith said investigators were waiting for a report from the county coroner's office.
However, Dominick's father talked to his son's friends who witnessed the incident and believes his son was kicked by another student.
The students told Gallegos that Dominick slipped when he went to pick up a soccer ball and another student, who Gallegos said has a reputation for being a school bully, stomped on his son's chest twice and Dominick lost consciousness.
"I guess the kid thought he was playing around. He started shaking him to wake up," Gallegos said.
But that's when the bell ending to school day rang and the boy just took off, Gallegos said.
"I don't know where the teachers were," said Gallegos, who felt his son should have been better supervised during the class. "Someone should have been watching those kids."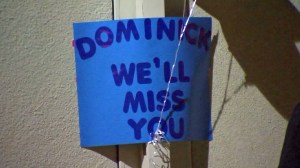 Gallegos and the boy's mother both said their son had no health problems and recently had a physical.
"This kid did it on purpose," said Gallegos.
The father said he asked his son's friends if Dominick had a problem with the other boy prior to the incident, but the friends said, "No, that's just the way that kid is."
Gallegos said he wanted to help police with their investigation but they had yet to speak with him.
"He was my only son," Gallegos said, starting to cry.
Dominick was described as fun and friendly during a vigil held Wednesday night in the Colton neighborhood where the Gallegos family live.
Hundreds of people gathered and prayed with the Gallegos family.
"This just really hits home. This is a small community and we all love each other," said Jody Kagarise, who lives in the neighborhood.
On Tuesday night, about 100 parents and students had gathered at the school, but no one who spoke to a KTLA reporter was able to say exactly what had happened, only that a student had died early that day.
The district superintendent was present Tuesday evening and said he had no comment and wanted to respect the family's privacy. He said the district would send out a press release.