This is an archived article and the information in the article may be outdated. Please look at the time stamp on the story to see when it was last updated.
A Burbank man was convicted Thursday of trying to kill six Los Angeles County Sheriff's Department deputies in Bellflower and keeping a SWAT team at bay for several hours in 2016, a news release stated.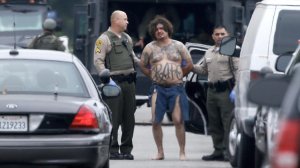 A jury found Juan Martinez, 41, guilty of six counts of attempted murder, five counts of assault on a peace officer with a semiautomatic firearm and one count each of false imprisonment of a hostage, dissuading a witness by threat of force and possession of a firearm by a felon, according to the Los Angeles County District Attorney's Office.
On June 23, 2016, Martinez shot and wounded a motorcycle deputy who pulled him over during a DUI checkpoint, according to prosecutors. At the time, officials said he was driving erratically and ended up knocking over cones that were set up at the checkpoint.
Martinez then fled in his vehicle and drove to a cul-de-sac where he exchanged fire with authorities and struck a second deputy, officials stated. He then opened fire on other deputies before hiding in a converted garage at a home for nearly eight hours, authorities said.
He was eventually arrested after a SWAT team fired tear gas into the structure, according to the DA's office.
Martinez faces a possible maximum sentence of more than 200 years to life in state prison, prosecutors said. He is scheduled to be sentenced on July 30.